Shirley Manson on Garbage, Azealia Banks and being a CEO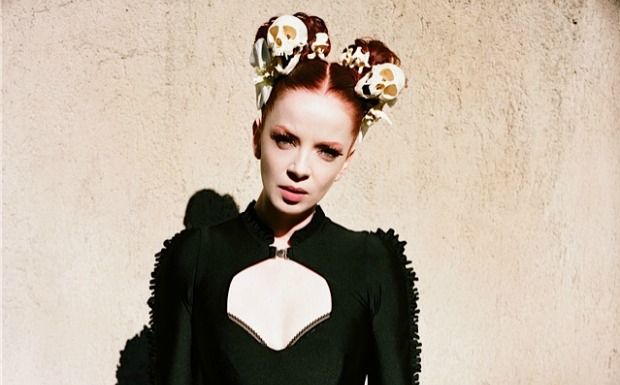 Posted by Melissa Locker on
Seven years ago, Garbage broke up. The band that brought us the chart-toppings anthems "Stupid Girl", "Happy When it Rains" and "Supervixen" was done with the music industry that helped them sell millions of records and bring their music to the masses. The 90s alt rock band was formed by Butch Vig, Steve Marker and Duke Erikson, three American musician-producers (Vig was best known as the producer of Nirvana's 1990 album"Nevermind") who invited Scottish singer Shirley Manson to front the band. Success came quickly, including numerous awards, sold-out stadium shows, and even a James Bond theme song ("The World is Not Enough"). The band was overwhelmed and soon the fun was gone. So they broke up. But now, after a seven-year hiatus, the band is back with a rollicking new album, "Not Your Kind of People".
Shirley Manson took some time out of her schedule to chat about the 90s, the benefits of running your own company, and being an outsider who sold over 12 million records:
Your band went on indefinite hiatus in 2005, why was now the right time to get back together?
I don't know why. It just felt like we were ready and had something to say. We felt regenerated and ready for the next phase of our career. I guess we felt excited to work together again and all those reasons made it the right time.
How does it feel to be with the old band again?
It's amazing. We're having the time of our life right now. We're privileged to be playing again and to be playing sold out shows to packed houses. We're very lucky to still have fans like that, especially in this day and age when there is incredible ADD among fans, that our following has shown they are still curious about what we are doing and what we have to say.
Now you are back and …it kind of sounds like you ever left.
Is that a question or a statement?
Both, I guess. Do you think people will buy the album out of nostalgia or do you think it will appeal to new fans?
Kind of a mixture. But we've been surprised to see how young a lot of our audience is. We've made a classic sounding Garbage record, for sure, but it's a competitive record for sure. It fits in with radio programming right now. We want to reach a new audience and we think it will. We don't sound like anyone else on the radio. Much to our surprise there hasn't been another band like ours since we came off the road. We have a unique sound and we hope the new album will result in a whole new generation of listeners.
Do you think your sound has been influenced by other bands that have come up during your hiatus?
I'm sure we have. I think there's a lot of music that's come up in the last decade that has excited us for one reason or another. I think young artists are always inspiring because they are coming at worlds from a different point of view.
Do you think you've matured as a band?
I don't know if we have matured as a band per se. We definitely have matured as individuals and we view our role in a different way you now. When you've had a long career it feels different coming back and playing festivals, meeting other musicians or meeting bands who have been influenced by our music. It's amazing to meet to meet artists who grew up listening to us. That's an incredible privilege.
What made you release the album yourselves?
I think we just decided it made more sense for us philosophically. A lot of collective experience lead us to believe that we could do a better job getting our music out to our international audience than a label that was indifferent. We could self propel ourselves. Plus it's fun to be a CEO.
Do you give yourselves a lot of coffeebreak? Good benefits?
Very good benefits, naps and lots of coffee breaks.
What does the album's title, "Not Your Kind of People", mean to you?
I think it's just a call to arms in a way to anyone who feels like we do about the world. Just to a human being trying to figure life out. As a band we've come from a weirdo oddball place. We've never fit into a music scene. In my life I've never been an insider. I was a redhead and a middle child, both can make you feel excluded. It's like fighting to be included, in the swim of things. After a while you start to develop a bit of a victim mentality, which isn't great for a happy life. So this time our attitude has changed. It's great. It can be great to be outsider.
You say you were a band of outsiders, but you sold over 12 million records. So are you insiders or do your fans think they are outsiders?
I think it's a bit of both. At the time we sold that many records there wasn't anything like us on the radio. We had a sound like no one else and I think it resonated with people. We did attract a huge following, internationally too. I just think it was a case of a lot of people identifying with our sound and what we were saying. I think a lot of people in their lives feel like they don't fit in, even if it looks like they do. People feel like outsiders even if others think we the lives we live have everything. If they are popular or they have everything they are supposed to have. Even then people still don't feel quite included.
So …we are all outsiders?
Yeah, man is an island. That phrase doesn't come from nowhere. I think it's inherent in human nature to feel a little lonely or maybe alone is a better word for it.
In the 90s there were a lot of female-fronted acts like Garbage, No Doubt, Alanis Morissette, and Hole. Courtney Love. Do you think it has changed the face of rock? Or is the glass ceiling still in place?
I feel like my generation burst through the glass ceiling. But, arguably since September 11th, radio programming has become very conservative. Now, there's a proliferation of pop music from women. Pop music seems to be the way radio programming has chosen to support female artists. They have chosen not to support a more provocative voice from women, which I find disappointing.
The only women being heard right now are the popular girls, the cheerleaders, the pretty ones. There are a lot more voices to be heard. That's not to say I don't like pop. There are a lot of pop stars I like. I really like Beyonce and Rihanna and I admire what Lady Gaga and Katy Perry do. The radio just needs to play other voices.
What about the rise of female rappers like Kitty Pryde or Kreayshawn?
My favorite out of those is Azealia Banks. The first time I heard "212" I almost died. It felt dangerous and exciting and really fresh and I have a little crush on Kreayshawn, too. But I don't know if those girls are getting time on the radio. It's great that they are getting played via YouTube or Tumblr, but I want them on the radio. Like in the 90s when Missy Elliott was getting played. You know, it's hard out there right now for women with attitude.
Where did the song Blood for Poppies come from?
It's come from a lot of things. It's really an analogy for a story I read about Afghanistan and the opium wars over there. Actually it's from a few stories, one about a platoon of soldiers in Afghanistan and the other about the opium wars. I use that as a backdrop for a story about maintaining sanity in an out-of-control place.
Check out the video for "Blood for Poppies" by Garbage: