LAFF: "Seeking a Friend for the End of the World" cast ponders the apocalypse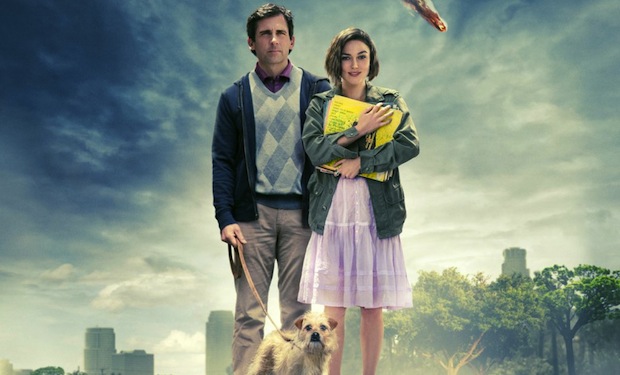 Posted by Terri Schwartz on
We won't know for sure that the Mayans were wrong about 2012 being the year of the apocalypse until the we reach the end of December, which means we still have six more months to speculate about how it will all go down. Will an asteroid blow us all to bits? Will there be a surprise nuclear holocaust? Will some big man in the clouds come down and pluck us away into nonexistence?
And how will we all act when we know that our lives will end shortly, and there's nothing we can do to stop it? That's the question that Lorene Scafaria's latest film "Seeking a Friend for the End of the World" asks its audience, and that's the question we put to the stars of the film when we saw them at its Los Angeles Film Festival red carpet.
"Hopefully I wouldn't just be sitting there crying the whole time. That would be terrible," Melanie Lynskey told IFC. Taking a second to think about the idea of the apocalypse, she added, "It's a crazy thing. You sort of like shrug your shoulders and you're like, 'Whatever,' but then there's a part of me that's like, 'What if that happens? What if that's real?'"
"Seeking a Friend" is, in many ways, a light, comedic take on the end of the world. It shows how people can come together in a time of crisis, even if there really is no point. And they literally come together in the movie. All most of the stars of the flick could talk about at the red carpet was the orgy that Steve Carell, Keira Knightley, Gillian Jacobs, TJ Miller and some extras get into at a T.G.I. Friday's-style restaurant called Friendly's.
When asked to describe filming the scene, Jacobs answered, "Very exuberant, I would say, with a lot of tactile elements. It was really fun. It was so silly."
But apparently it took several tries to actually get right.
"It was the politest orgy you've ever seen for the first three takes and then Lorene came over and said, 'You guys, we do not have this time. This is an independent film. We do not have the budget to ease into this. Let's see an orgy.' And then she went off and the next take I think was a little too much," Miller said. "I may have done some things to Steve Carell's calves and ankles that I'm not proud of."
Jacobs had the unique opportunity to make out with both Carell and Knightley, as well as some other lucky extras. When asked which smooch was her favorite, she couldn't decide.
"Guys, come on! Sophie's choice! I can't answer these questions! Don't play hardball with me," she said.
Though sex and drugs (the orgy occurs while everyone is high on ecstasy) might not be the ways in which Miller chooses to go out during the apocalypse, he did joke that he spent plenty of time preparing for his big scene in "Seeking a Friend" by taking a method approach to it.
"I took ecstasy for two and a half years in the Mojave desert, just straight, right up until the day that we filmed, and then I went directly insane," he deadpanned. "They call me the young uglier Harvey Keitel."
When asked why she thought that pop culture has continued to return to the end of the world scenario over time, Jacobs had several explanations. "I think it's something that people are always obsessed with," she said. "I mean, uncertain times, climate change, Mayan calendar, knowing that everything can't go on forever. I think it's always bubbling sort of under the surface of our consciousness."
But fans might be surprised to find out that Scafaria's inspiration for the film didn't stem from the Mayan prophecy at all. Instead, it was a certain event that occurred 11 years ago that affected her life — and all of the United States — forever.
"9/11 happened, and I'd moved from New York to LA a week before it and had no friends there and was so desperate for human contact and thought a lot about how this global event could have a really personal impact on me, my behavior and my relationships with people," she explained. "That stayed with me for a long time and yeah, we end up here."
She continued, "That kind of event happened and it really did change people for the better for a little while. I felt like New York was a place that people were finally looking each other in the eyes for a little bit. Sometimes it takes something like that to bring out the best in people."
For Scafaria, the decision to have "Seeking a Friend" be a light-hearted take on what's typically an action-packed or dramatic genre was intentional.
"I think when you take forever off the table, it does something really interesting to what you think is important," she said. "There's something a little freeing about it."
"Seeking a Friend for the End of the World" hit theaters June 22.
What would you do if you found out the world was ending in a few weeks? Tell us in the comments section below or on Facebook and Twitter.