Sarah Silverman comments on baring all for "Take This Waltz"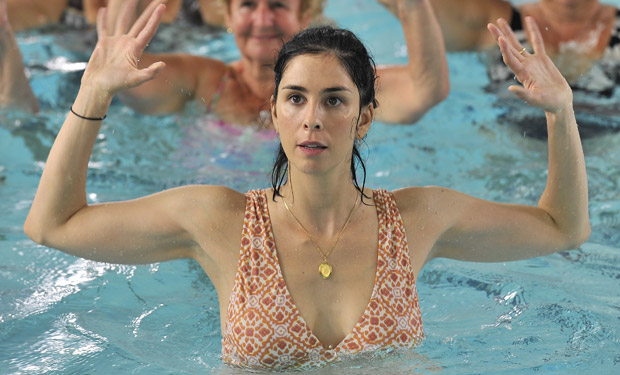 Posted by IFC on
By Jennifer Vineyard
Sarah Silverman is a fearless woman – she'll say anything for the sake of comedy, whether in her stage act (see "Jesus is Magic"), her memoir ("The Bedwetter: Stories of Courage, Redemption, and Pee"), or her TV show ("The Sarah Silverman Program"). But with her latest film, "Take This Waltz," Silverman does something even braver – a full frontal nude scene with Michelle Williams.
"Women are naked together all the time," Silverman told IFC. "I mean, I'm in the tub, and my girlfriend's reading a magazine. Women are very comfortable being naked together. It's an everyday thing. But in movies, you never see that. Nudity in movies is frequent, but it's usually sexual. So to have nudity in a movie that's not at all sexual is jarring."
Silverman's nude scene takes place in the locker room shower, after her character Geraldine takes an aqua fitness class with Williams' character Margot at the local gym. The two are sisters-in-law, since Margot is married to Geraldine's brother Lou (played by Seth Rogen), and consequently spend some time together. Geraldine might be the only friend in Margot's world who perceives that she's considering straying from her marriage with attractive neighbor Daniel (played by Luke Kirby), and of course, she's got a vested interest in that not happening. But for the most part, Daniel's seduction of Margot is purely verbal – the two have an intense moment when she asks him to tell her what he would like to do to her physically, and his very vivid description at turns embarrasses, delights, and arouses her.
"Although I'm a huge porn person, women's porn is usually what you read, and guy porn is more visual," Silverman noted, perhaps thinking of the erotica phenom "50 Shades of Grey." "So it's interesting that the sexy scene is all words, and the naked scene is like looking at your mom take a shower."
Silverman's been less than boastful about her group shower scene – likening her appearance to that of Kathy Bates in "About Schmidt" and joking that she gained weight for the role. But in contrast to the elderly women also in the locker room for the scene, or even the gamine Michelle Williams, Silverman is no "mom in the shower." She looks like a fit, curvy woman. Tell her that there was no need on her part to lower expectations, and she's proud. "That's exactly right! See what I did? I got you. And that's why you enjoyed it."
"I think I get self-conscious about it," she admitted. "I think I just look [frumpy]," which she demonstrates by slumping over. "If it wasn't me, I'd go, 'That's so great!' I'm trying to have that attitude."