Ryan Gosling's next movie is….?! Only Bunk knows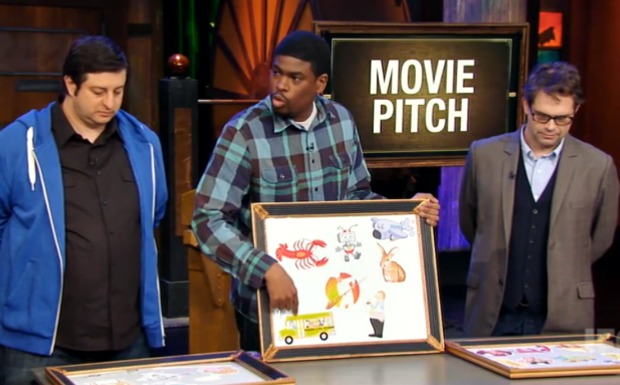 Posted by Melissa Locker on
Hey girl, Ryan Gosling is trying to think of his next movie role. Even if he's not, Bunk is here to help. In this new clip from the wildest comedy game show around host Kurt Braunohler challenges comedian contestants Dana Gould (The Simpsons), Eugene Mirman (Bob's Burgers), and Damien Lemon (Russell Simmons Presents: The Rukus) to create their best movie pitch starring Ryan Gosling out of magnets and boards and their own imaginations.
While Ryan Gosling may not take the comedians' suggestions we're confident that some enterprising producer will take Dana Gould's idea to turn Ryan Gosling into a lightbulb smashing superhero and run with it. That's okay, because there's more where that came from. You see, for the contestants on Bunk, coming up with the next blockbuster starring one of the hottest actors around is just another day at the office. If you were a comedian contestant and the always barefoot host, Kurt Braunohler, was staring you down waiting for a brilliant answer to whatever bizarre challenge he threw down, you know you would do anything to win whatever you could to win an outlandish prize for your non-charitable cause of choice.
Watch the contestants come up with Ryan Gosling's next big movie:
video player loading
.
.
.
Want the latest Bunk? Like them on Facebook and follow them on Twitter @IFCbunk and use the hashtag #bunk.
Bunk airs on IFC on Fridays at 10:30 p.m. ET