"Prometheus" sequel talk and the real reason the Engineers wanted to destroy mankind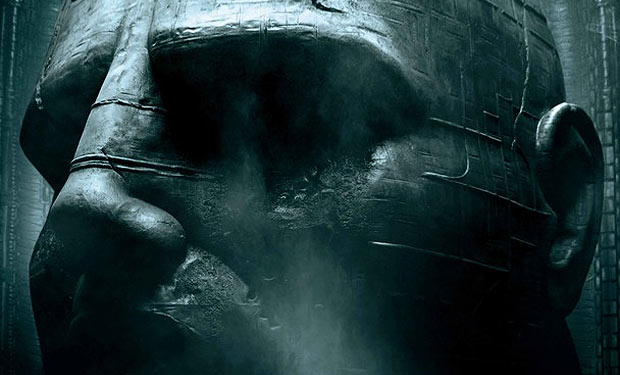 Posted by Terri Schwartz on
In the week leading up to the release of "Prometheus," we went into crunch mode. The film's world premiere and junket had just occurred in London and news outlets were posting their interviews with the stars and crew, but we didn't want to be spoiled for the mystery-heavy movie. So we ignored most of the stories that came out about the future of Ridley Scott's new sci-fi franchise and decided to wait until after the film was released.
Well, "Prometheus" is now out in theaters, the mystery has been revealed, and we've learned that the flick has a very sequel-friendly ending. That means that it's time to go back to all those previously released interviews and find out what Scott and writer Damon Lindelof have in store for us in the future. Collider did most of the heavy lifting for us, compiling quotes from interviews posted on The Hollywood Reporter, Movies.com, and Collider themselves.
"From the very beginning, I was working from a premise that lent itself to a sequel. I really don't want to meet God in the first one. I want to leave it open to [Noomi Rapace's character, Dr. Elizabeth Shaw] saying, 'I don't want to go back to where I came from. I want to go where they came from,'" Scott told Movies.com.
But Lindelof was always aware that this set-up would have some backlash. "Ridley was very interested in talking about, 'What are the answers to the questions that Prometheus is posing that are not necessarily definitively spelled out in the body of Prometheus?' I said to him, we should be prepared for people to feel frustrated if we're going to be withholding, so we have to be very careful about what we're saving for later because it's not a foregone conclusion that there are going to be sequels, and so if there isn't a sequel, just be comfortable with what we gave them in this movie," he told THR.
"Prometheus" has gotten a lot of flack for talking about The Big Questions but never actually asking them. But one of the biggest cliffhangers left at the end of the flick is the explanation of why the Engineers wanted to wipe out mankind to begin with. If we read into some of Scott's comments, that answer could be because humans killed Jesus Christ.
"If you look at it as an 'our children are misbehaving down there' scenario, there are moments where it looks like we've gone out of control, running around with armor and skirts, which of course would be the Roman Empire. And they were given a long run. A thousand years before their disintegration actually started to happen. And you can say, 'Lets' send down one more of our emissaries to see if he can stop it. Guess what? They crucified him,'" Scott told Movies.com.
That Christ assumption is doubly confirmed by the fact that the Prometheus crew determined the Engineers decided to destroy earth about two millennia ago, or around the time Christ was crucified. If we're to read even more into Scott's comments, he could be saying that Christ (in his world) was actually an emissary of the Engineers.
Apparently the potential sequel to "Prometheus" could be called "Paradise," a title that was toyed with for Scott's planned "Alien" prequel. But that doesn't necessarily mean that the Engineers' home planet is going to be heaven on Earth when Elizabeth Shaw finds it.
"I'd love to explore where the hell [Dr. Shaw] goes next and what does she do when she gets there, because if it is paradise, paradise can not be what you think it is," Scott told Movies.com. "Paradise has a connotation of being extremely sinister and ominous."
Are you intrigued at the direction the "Prometheus" series is headed in? Tell us in the comments section below or on Facebook and Twitter.