Exclusive premiere: Mac DeMarco "European Vegas"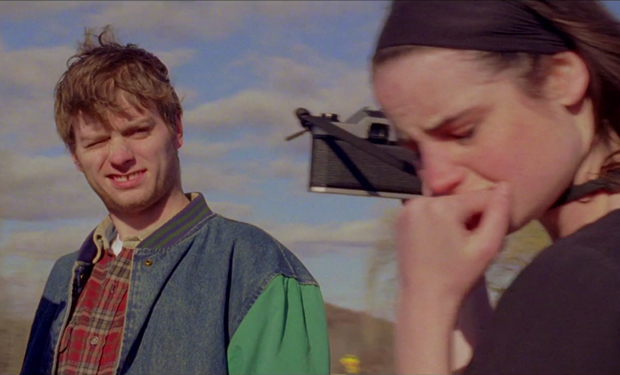 Posted by Brandon Kim on
Director Angus Borsos' initial vision of Mac DeMarco's ineffably strange song, "European Vegas," was quite literal. He imagined "A bright archaic marvel with fluorescent stonework," populated by "sunburnt characters wearing sunglasses." But he never found such a place to film. The video he made is less grand in scope, but not only does it perfectly serve DeMarco's song, it also somehow manages to capture a nostalgic quality of 90's slacker cinema that I forgot I was missing. It feels like some half-remembered delusion by Gus Van Sant and Richard Linklater set to the sleaziest Canadian bedroom pop I've heard.
"I felt a nagging nostalgia; a silhouette grasping my ankle desperately," Borsos described the moment the idea came to him. "I soon realized this was Mac, with a wry smiling insistence. He was stuck in the middle of two worlds; on a stage between an entrance and exit for characters to pop out of and explode." So he had his setting — a back road down which unusual characters travel, and only needed to embrace the oddity of DeMarco's material, which he was clearly inclined toward. "Thinking is a whirlpool and ideas are birds," he added, affirming this.
video player loading
.
.
.
It's gratifying to be immediately interested in a character — something that most movies can't accomplish in 2 hours, was done within seconds here. "It's an odd thing (like most) that all the characters turned out to be as bold as they did," Borsos said. "I think the reason for this was because I'd just finished making a music video for another band in town, with a lead character that I crushed and ground into vagueness. For some reason, at the time I saw it as a failure."
The director decided to dig into the archetypes in his mind and bring the characters to life around DeMarco. "To follow it up, I wanted to feel more courageous; to be this way I would have to think in the opposite direction," he recalled. "I made sure to keep my eyes big and not closed. Dreaming to Mac's song, I saw colours and Looney Toon madness, sharp guns and shiny shoes. Toy people. The characters had to move this time."
And move they do, in the best ways. A cowboy bounces cartoonishly into frame. An eye catching red shoe pigeon-toes, following the action of a body being dragged from a limo. And that slack body comes to life, shimmying in the grass under a tree. Most of it was scripted, but Borsos also knew when to just let DeMarco loose and record it (the shimmy). "I wanted him to be his invention," Borsos said, "wound up and ready to bark."