Exclusive: Imagine Dragons Tour Interview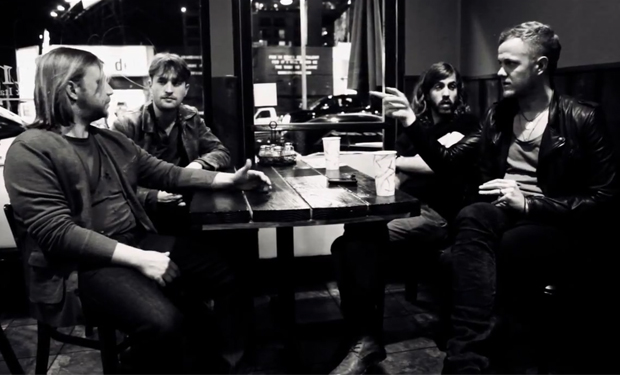 Posted by Brandon Kim on
Imagine Dragons are breathing fire with their single "It's Time," currently featured in the trailer for the teen coming-of-age film, "The Perks of Being a Wallflower" (Emma Watson, Paul Rudd). Here we have the band in a behind the scenes tour video at the Viper Room.
"There is always a mix of apprehension and excitement before you try songs out on a new audience," lead singer Dan Reynolds told us. "That said, L.A., and especially the Viper Room, is a second home for us. So it was great to begin testing songs out with so many familiar faces around. The reaction to the music is the most gratifying experience we have as artists."
Of course we wanted to know what the Las Vegas band thought about having their music identified with "The Perks of Being a Wallflower," based on the acclaimed novel of the same name too.
"I was definitely very happy and humbled," Reynolds said. "It's an incredible novel and the team involved with the film are extremely talented. To be a part of something so special is nothing short of a dream."
On how he saw his music fitting with the theme Reynolds replied, "The novel and film are extremely honest and show a very vulnerable side of human nature. 'It's Time' is a song about growing, but at the same time staying true to yourself. I think the film definitely resonates with that theme in many ways."
"I wrote it just wanting to express myself in an honest way," he said of the song. "It's a bit of a vulnerable song for me and to see that so many people are hearing it and relating to, even drawing strength it, is an amazing feeling. I am very humbled to say the least."
TOUR DATES:
July 5 – Summerfest 2012 – US Cell/WLUMMilwaukee, WI
July 6 – Basilica Block Party – Church StageMinneapolis, MN
July 21 – Firefly Music FestivalDover, DE
July 25 – Paramount StudiosHollywood, CA