Exclusive premiere: Chains of Love "He's Leaving With Me"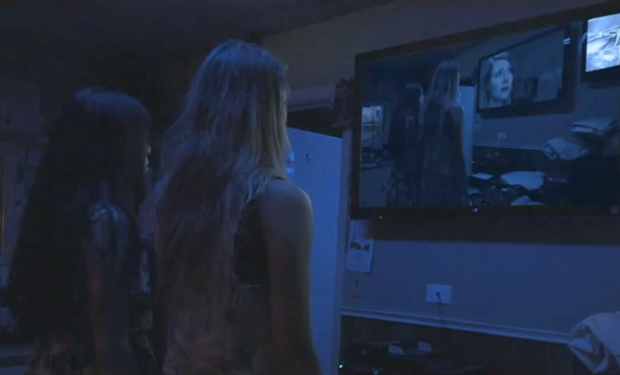 Posted by Brandon Kim on
Enter Chains of Love's twilight zone motel, where reality continually loops in on itself. The way the man asks, "Do you hear the music?" feels like the beginning to a Canadian snuff film. It might prompt an urge to check under the bed to see if Mark Frost and David Lynch are lurking there too, but the only lurker in director Scott Cudmore's vision appears to be a random booty chick.
"I like motel locations even though they're kind of over-used maybe, but they have such an atmosphere," Cudmore said about the creepy locale in which he sees the motel guy as a kind of counterpart. "In an vague and indirect way, it's sort of a music video about music videos. You could see the motel guy as being like the director, or creator."
The poor girls the motel guy has trapped in his loop are singer Nathalia Pizzaro and guitarist/vocalist Rebecca Marie Law Gray. The rest of the Vancouver band was supposed to appear in the video too, but apparently they couldn't handle it. "During the shoot they got really sick and had to leave," Cudmore revealed. "And why is there a booty girl? Well, why is there ever a booty girl? Certainly this guy would have a booty girl in his strange fantasy never-ending music video loop nightmare."
video player loading
.
.
.


Do you see the camera? Let us know in the comments below or on Twitter or Facebook!