Exclusive premiere: Caveman "Old Friend"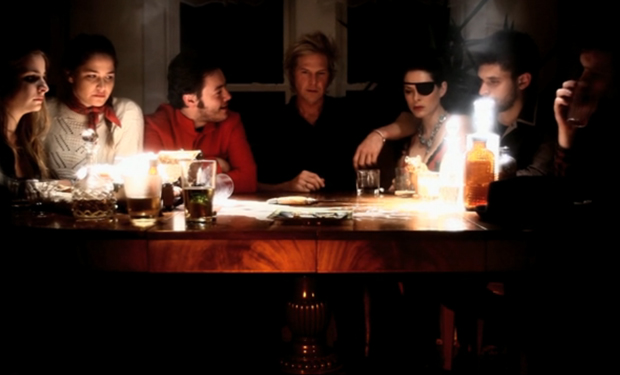 Posted by Brandon Kim on
Beyond the phone call delivered here, by actor Peter Sarsgaard, is another dimension where New York's Caveman resides in a strange realm envisioned by director Philip Di Fiore. A dimension of sound, a dimension of sight, a dimension of mind, that would make "Twilight Zone" creator Rod Serling feel warm all over, but strikes a creepy chord for the rest of us.
One can only imagine the group of 5 to 8 year-old's, whom this was screen tested with, and the effect it had on them — other than inducing nightmares of a soft spoken late night caller. Di Fiore won't say exactly, but assures me they were "endlessly valid interpretations of what could be happening."
"I've always been fascinated with the concept of time and various cultures' theories about time," Di Fiore said. "In my opinion, it's not as tidy and linear as popular media or popular culture likes to shape it — the past has a way of holding on, and folding itself into the present. There's evidence of this all around us, relics of different eras co-existing beautifully with modern styles and technologies."
video player loading
.
.
.
This is evidenced in "Old Friend" too where, Di Fiore and his DP have used a vintage black and white tube video camera to get that vintage television look. You would be forgiven if you thought it was found footage or original to the early 60's, although the reappearance of the woman, actress Penny Lynn White, makes it clear when you see her again later on that it cannot be.
"She carries herself in a very dignified manner, but there's also some secrets and some pain behind her eyes," Di Fiore, who gathered everyone at an old house in Claryville, NY for the weekend shoot, said. Lauren Sieckowski, who plays the younger woman, helped spark the ideas for the video on a night out in Brooklyn with Di Fiore. The band's, Sam Hopkins, plays "the man," and when he wasn't stalking the hallways in a fedora, he was in the kitchen cooking for everyone — the cast and crew all stayed in the house for the duration. "The voice" is none other than Peter Sarsgaard, whose boyish charm and devilishly good looks are not in play, leaving only a soft spoken menace.
"Peter Sarsgaard and I have become friends over the past year and it's great to talk music and film with him," Di Fiore said. "He's told me about some fascinating acting techniques that he's learned over the years and I got to witness some of them when he did the voiceover at my studio. He watched the rough cut down, and without me saying a word, he immediately got the tenor of what we were going for."
Di Fiore compared Sarsgaard's timing to, "the phrasing of some of the jazz trumpet players" that the two talk about when they're hanging out. "I should release the rough cut of the video with my voice in there," the director joked, "Just so people could see how much Peter blew my attempt out of the water."
Let us know if you're in our house, in our parlor, walking up our stairs, in the comments below or on Twitter or Facebook!