Premiere: Air Traffic Controller "Hurry Hurry" (acoustic)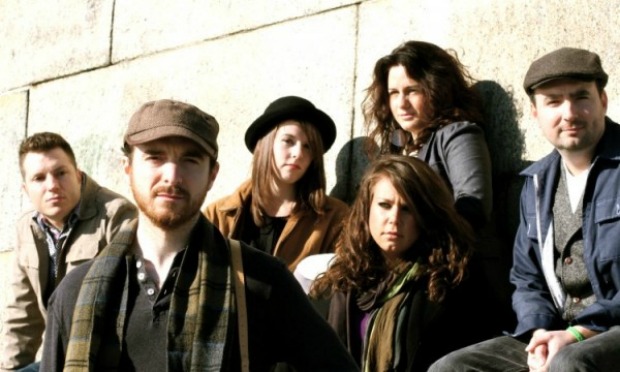 Posted by Melissa Locker on
When you hear about a rock group called something like The Killers or the Mountain Goats, you don't expect the moniker to have any meaning aside from an irony-soaked cool sounding band name. But for Dave Munro, the name Air Traffic Controller is both his band and his vocation.
At 17, Munro enlisted in the Navy, where he worked as an air traffic controller. During his deployment, he sent home 4-track demos he recorded in his off-duty hours. When his enlistment was up, Munro returned to Boston and discovered that while he was away, his music had earned him a loyal fan base. He put together a band to back his singer/songwriter stylings and the aptly-named Air Traffic Controller was born.
Now a fully-fledged six-piece, Munro's vocals and guitar are backed by multi-instrumentalist Steve Scott on lead guitar, keys, and more; Richie Munro on drums; Casey Sullivan on bass, banjo, and backing vocals; with violinist Alison Shipton and Kiara Perico on viola. The band's slightly flighty (pun intended) indie pop sound is given weight by Munro's rich lyrical storytelling. The combination of earnest rock and pop sentimentality earned the group more and more fans in the Northeast. Eventually one of the group's demos reached LA-based singer/songwriter and producer Bleu and in 2009, Air Traffic Controller released its debut, "The One." The album earned critical praise and garnered the group a nomination as MTV's "Best Break Out Artist Video Music Award" of 2009.
The band turned to Kickstarter to fund their second release, earning a whopping $12,000 via the micro-fundraising site. With the money in their pocket the band returned to the studio with Bleu and crafted "Nordo," which is due to hit stores June 26 via Sugarpop Records. The unqualified hit off the album is the single "Hurry Hurry." We are pleased to present the acoustic version of the song for your listening pleasure. Please to enjoy:
video player loading
.
.
.