Portlandia Season Two DVD and Blu Ray out Sept. 25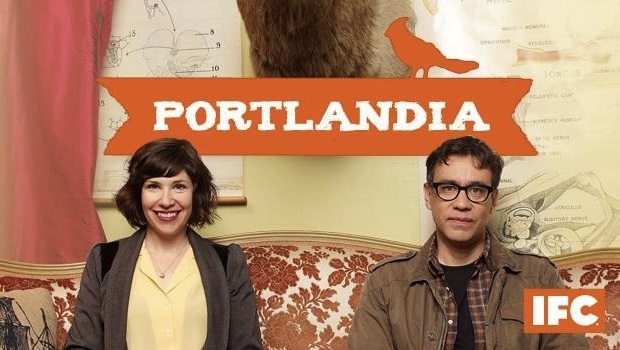 Posted by Melissa Locker on
The Portlandia Season 2 Blu-ray cover is hot off the presses! The second season will be released September 25 on both DVD and Blu-ray with more bonus features than a bike mover can transport in a day, including IFC's upcoming special "Brunch Village: Director's Cut." Stay tuned for more details, but here's what we know now: The second season of Portlandia, Fred Armisen's and Carrie Brownstein's endearingly quirky sketch comedy show, is finally coming out on DVD/Blu Ray!
In the second season, some of Portlandia's most loved and notable characters from season one return. You know, the people who brought you memorable catchphrases such as "Put a Bird On It" and "Cacao"! They are back, along with Portland's trusty openly reggae bass playing Mayor (Kyle MacLachlan, Desperate Housewives, Twin Peaks); Peter and Nance, Spyke, the militant bike messenger, Bryce Shivers and Lisa Eversman, who aren't putting birds on things anymore, and, of course, Toni and Candace, the shopkeepers of the feminist bookstore, "Women and Women First."
Many new residents moved into Portlandia for the show's season two, including the "Sanitation Twins," some serious Battlestar Galactica fans, and Kevin the Cat. Plus a whole new crop of guest stars graced Portlandia with their presence, including Pearl Jam's Eddie Vedder, Andy Samberg, Kristen Wiig, Joanna Newsom, Annie Clark a.k.a. St. Vincent, Miranda July, Isaac Brock from Modest Mouse, Tim Robbins, and many more.
Fans who pick up the Blu Ray/DVD of Portlandia's second season will also get a bunch of extras. The DVD and Blu Ray come with commentary with Fred, Carrie and director Jonathan Krisel over 4 episodes. You'll also get behind-the-scenes footage and highlights from Portlandia: The Tour and a peek at the making of the show as well as deleted scenes. Also on the Blu Ray/DVD are two specials, both "The Brunch Village: Director's Cut" and an "Introduction to Portlandia."
Portlandia returns to IFC for a third season in January 2013 with a special airing this summer and another during the holidays