Tim Grierson on Jonathan Demme's terrific Neil Young documentaries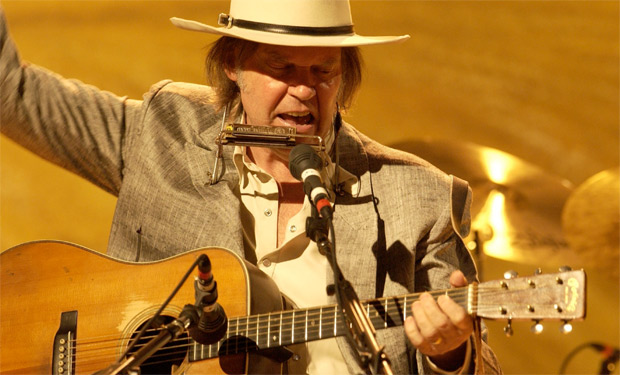 Posted by Tim Grierson on
In 2005, we almost lost Neil Young. Diagnosed with a brain aneurysm, the then-59-year-old songwriter went in for surgery, which was successful, but a few days later he collapsed in the street due to complications from the procedure. (He had to be revived by emergency personnel.) In interviews, Young tended to downplay the severity of what happened, but for anyone who's loved his music, it was an alarming reminder that one of rock's most prolific artists someday was going to stop producing new music.
Whether as a solo artist or with one of his side bands, Young has put out a new studio album or a live disc just about every year since 1966. But while many of them have been terrific, Young's legacy isn't defined just by the quality of his work but by the endless restlessness of his muse. Young's health scare has prompted a lot of fans to appreciate him while he's still around. Even better, it's inspired director Jonathan Demme to produce three terrific Neil Young concert documentaries in the last six years that sum up his artistic importance as neatly as any biography could. The third installment opens on Friday. Even if you've seen the other two — especially if you've seen the other two — this one is a must.
It's called "Neil Young Journeys," and it's superficially similar in format to the first two editions. 2006's largely acoustic "Neil Young: Heart of Gold" and 2010's mostly electric "Neil Young Trunk Show" focused on Young the performer, and while "Neil Young Journeys" does as well, there's a healthy serving of Young off the stage, as he drives around his small Canadian hometown reminiscing about his youth. It's not as if Young delivers devastating insights into his creative process during these drives, but they're nonetheless incredibly valuable because they help paint a portrait of this somewhat loopy, entirely enjoyable oddball who seems to do everything with the same scruffy nonchalance. Like his music, the interviews are deceptively candid yet contain mysteries into the deeper meanings behind his plainspoken language.
But as with the earlier films, "Journeys" is chiefly about the music, and it's a constant wonder. Each documentary has been built around a tour for a particular album — "Prairie Wind" in "Heart of Gold," "Chrome Dreams II" in "Trunk Show," "Le Noise" in "Journeys" — and while none of these records would be considered masterpieces, Young's insistence on focusing on new music during these shows speaks volumes about his commitment not to live in the past. But at the same time, there is an undeniable sense of looking back in all three albums. ("Prairie Wind" was a response to his discovery of the brain aneurysm, and some of the material on "Chrome Dreams II" — which itself is a sequel to a 1970s album that he never ended up releasing — was written in the '80s.) By following Young on his trip home, "Journeys" feels the most complete in terms of suggesting his humble origins and the long road he's taken to get to where he is now.
Demme's secret weapon with this project has always been his willingness to emulate Young's instinctive, organic approach. As well-intentioned and valuable as music documentaries like "No Direction Home: Bob Dylan" or "Marley" are, they tend to treat their subjects as deities, playing up their cultural importance while draining them of their vitality. Demme's films have gone the complete opposite direction, living in the moment as Young shows us a different musical persona in each documentary. To match the gentle, elegiac quality of "Prairie Wind," "Heart of Gold" is a polished, serene presentation of Young's sentimental songs. For the bruising garage-rock of "Chrome Dreams II," Demme turned to lower-grade video cameras for "Trunk Show," which complemented the music's rough-and-tumble immediacy. Now with "Journeys," he's made what could almost be described as a home movie — cozy but direct — that marvels at Young's onstage presence, which remains as volcanic as ever. (It should be noted that Demme isn't some novice when it comes to the concert film. His "Stop Making Sense," a chronicle of the Talking Heads performing in 1983, is widely regarded as one of the greatest music documentaries of all time.) Demme and Young have known each other for a while — the musician contributed a song to the director's "Philadelphia" — and there's an unmistakable intimacy between the two that lends a casual richness to these movies. This is not easy to achieve: Young doesn't do a lot of interviews and isn't particularly warm and fuzzy when he does agree to one. But Young is relaxed and confident as he performs, barely noticing that the cameras are there. It's like observing a wild creature in its natural habitat.
There's an argument to be made that the world doesn't need three Young concert documentaries. (After all, director Jim Jarmusch made his own Young documentary back in 1997, and Young himself has directed concert films as well.) But as Demme's project has rolled along, I've been struck by the wisdom of the filmmaker's decision to keep revisiting the musician. "I'm as predictable as a Holiday Inn when you really look at me," Young told a reporter back in '05. "I keep doing the same thing all over again. I just make records, and the records are usually some sort of turnabout from the last record." In the same way, Demme's films have honored Young's tireless creativity, portraying his artistry as an ongoing process, an ever-evolving project that will only stop when Young is physically incapable of picking up an instrument. Demme isn't trying to deify Young: He wants to depict him in all his messy, rumbling humanity. "Neil Young Journeys" is believed to be the final chapter for Demme. If that's the case, he's given all of Young's fans a wonderful memento of a life lived for the joy of honing one's craft. "All I know is, I don't want to die," Young said in that same '05 interview. "I have a lot left to do. I don't feel like people are giving up on me, and I won't give up on them. So I'm just going to keep on doing whatever it is I do." We've been lucky to have been along for the ride.