Channing Tatum and the "Magic Mike" cast tease the truth behind the fiction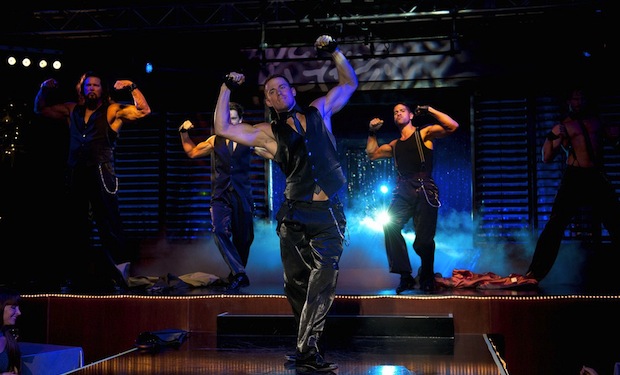 Posted by Terri Schwartz on
Fans might flock to see "Magic Mike" because it's a movie about male strippers, but they'll be surprised to find that it's actually about much more than that. It shouldn't come as a surprise though, since director Stephen Soderbergh has made a name for himself making rich character dramas like "Erin Brockovich" and "Traffic" as well as fun flicks like the "Ocean's Eleven" movies. "Magic Mike" is a healthy mix of the two, and it turns out that it was just as much of a pleasure to make the film as it was to watch it.
"Stephen is really great at walking the line between commercial, in the sense that people will want to see it, and really artistic art house. That's what this is. This is a movie that is really strange and about a strange concept, and yet it's relatable, and it's big. Its bigger concept is not just this little world. It's really about humans," Cody Horn said when IFC caught up with her at the Los Angeles Film Festival red carpet for the movie. "There's a lot of heart in this movie and there's a lot of issues that we all face every day."
Part of the reason that the movie has so much heart is because it's based on leading man Channing Tatum's real life experiences as a stripper in Florida. But don't expect everything you see on the big screen to be something that happened in Tatum's real life. In fact, he said that most of the movie is fiction.
"The only thing that's factual is me being 18 and being in Florida, I dropped out of college and playing football, and literally started going into this abyss of a world and just sort of lived it up for about eight months," he said on the red carpet. "I don't think anybody would really want to see the autobiographical [version]. Like it would, ugh, that's just gross."
It's clear from watching the men perform that Tatum is the only one who has real experience with stripping and dancing. Adam Rodriguez quite enthusiastically throws himself into the routine while Joe Manganiello and Matt Bomer clearly love getting to perform the dirty dances. Then there's Matthew McConaughey, whose on stripping scene puts everyone else to shame. But there's a good reason that viewers won't see much of former WWE wrestler Kevin Nash.
"At this point I'm so beat up from 25 years of wrestling, my body's so beat up that it was a grind just to be on my feet for 12 hours, let alone moving and even jumping off the stage. I was like, 'Really?'" he told IFC with a laugh. "But it was such a great camaraderie, the energy was so good between the cast members, the guys are great. I've made some long-term friends on set, so it was very special."
Betsy Brandt, best known as Marie from AMC's "Breaking Bad," only has one scene in the movie as a banker who denies Tatum's character a loan. Brandt said she regretted not being able to film any scenes that involved the men stripping, and joked that she suggested that Soderbergh add one in on her behalf.
"I asked if I could be in another scene when they're stripping, just counting my bank money," Brandt said. "I told Channing if, you know, he needed to take his clothes off for rehearsal, everybody has a process, and I respect actors and their craft and everyone has their own way of working…. no I'm kidding."
One of the more interesting elements of "Magic Mike" is the fact that instead of objectifying its leading women, it puts its leading men on display. Both Horn and Brandt said they were surprised and happy to find such good female roles available in Hollywood.
"I think that actresses in Hollywood kill for roles like this. There's not a lot in our age group for that and it was just an honor to get it. I love the role. I absolutely love the role, and I love the movie," Horn said. Brandt added, "I think it's great. I think they should have to take their clothes off for a while instead of us."
That being said, Tatum's answer when asked what parts of the movie female fans will love the most was unsurprising. "McConaughey's scene," he said. "All McConaughey's scenes."
What elements of Magic Mike have you most intrigued? Tell us in the comments section below or on Facebook and Twitter.