"Life of Pi" footage is a terrifying introduction to tiger Richard Parker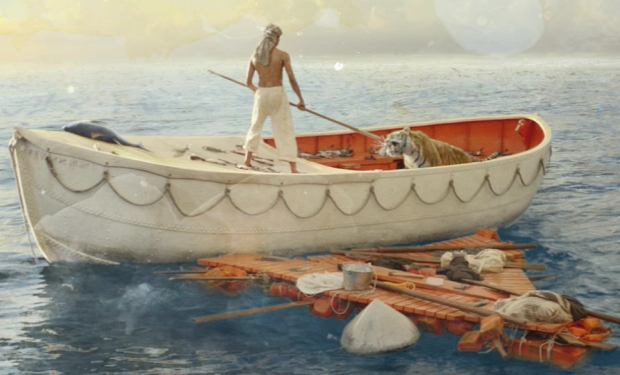 Posted by Terri Schwartz on
This fall has a full line-up of intriguing movies, but none has us more interested than Ang Lee's take on "Life of Pi." The adaptation of Yann Martel's best-selling novel tells the story of an Indian boy named Pi who finds himself stranded on a boat after a shipwreck with no one but a tiger, a hyena, an injured zebra and an orangutan to keep him company.
The first footage from the flick has made its way online and, though it is only 10 seconds long, it gives us a good sense of what we can expect from Lee's latest directorial feature. Namely, it shows us that the movie is going to look beautiful.
All the scene shows us is one of the first interactions between Pi (newcomer Suraj Sharma) and the tiger, Richard Parker. We can't judge Sharma's performance off of the one shot of his terrified face, but at least we know Richard Parker will look awesome.
The clip was posted on the "Life of Pi" official website. It also has four new images from the movie (including the one posted above) and a tease of the film's score by Mychael Danna.
Lee is known for his visual directing, and it seems like he is going to blow us away with his latest film. It looks like "Life of Pi" had a pretty big budget, so Lee could make the movie the way he wanted to make it. Hopefully that means we won't get comments years down the road similar to what Lee had to say about his work on "Hulk."
"I see a lot of the elements [in 'Tree of Life'] I was thinking about in 'The Hulk.' Some I put in, some I didn't. The non-drama part of 'Tree of Life' was stuff I was thinking about when I was doing 'The Hulk.' So I've been there. That's why that part didn't take my breath away, because I'd been thinking about similar things. I like to be surprised," he said.
"Life of Pi" is due in theaters on November 21.
What did you think of this first "Life of Pi" footage? Tell us in the comments section below or on Facebook and Twitter.