LAFF: "E.T." phones home at special 30th anniversary outdoor screening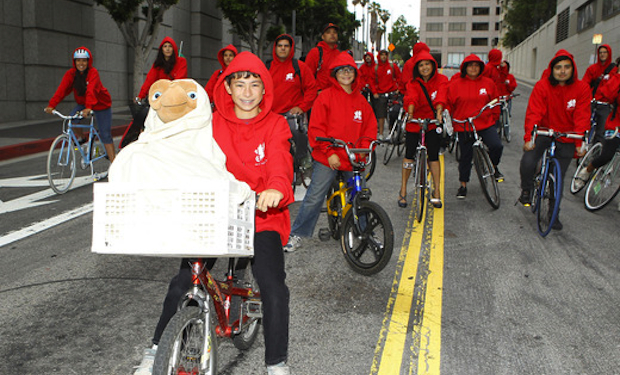 Posted by Terri Schwartz on
There's something about "E.T.: The Extra-Terrestrial" that remains timeless. Sure, some of the special effects in Steven Spielberg's 1982 classic look a bit silly now and the excessive amounts of "Star Wars" references are funny in retrospect, but it's easy to forget all that and become enraptures by the film that has charmed audiences for 30 years.
That's the mindset that fans took when they headed to the Figat7th outdoor cinema to attend the free screening of "E.T." hosted by the LA Film Festival. Those in attendance received free commemorative red hoodies to keep warm during the chill night as well as to celebrate the classic film. Hundreds showed up, some wearing their own "E.T." shirts and others dressing in classic '80s attire to win free tickets to some of the film festival's other screenings this week.
But arguably the coolest part of the event was the arrival of the "E.T." bicycle gang, which was arranged by the Los Angeles County Bicycle Coalition. Led by 13-year-old Daniel Oakes and his E.T. plush toy, the group of riders recreated the classic bicycle scene in "E.T." prior to the screening of the film. Fortunately there was a special bike valet for attendees who arrived on two wheels to park their vehicles.
As someone who has never had a chance to see "E.T." on the big screen, it was a treat to be present at the free LAFF screening. And even though three decades have passed since it was first in theaters, audiences are still unable to resist the movie's charms.
Attendees laughed, gasped and aww-ed at the appropriate times during the film, and it was clear that Drew Barrymore — who had her break-out role in this movie back when she was only seven — was the fan-favorite actress in the film. Considering the reception "E.T." had at this screening, we bet fans are going to love it when the movie is released on Blu-Ray later this year.
Are you looking forward to "E.T.'s" upcoming 30th anniversary re-release? Tell us in the comments section below or on Facebook and Twitter.