Adapt This: "Killer Of Demons" by Christopher Yost and Scott Wegener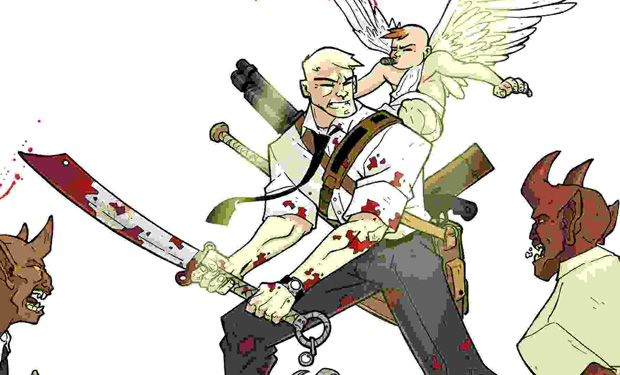 Posted by Rick Marshall on
With Hollywood turning more of its attention to the world of graphic novels for inspiration, I'll cast the spotlight on a cool comic book each week that has the potential to pack a theater or keep you glued to your television screens. At the end of some "Adapt This" columns, you'll also find thoughts from various comic creators and other industry experts about the books they'd like to see make the jump from page to screen.
---
This Week's Book: Killer of Demons by Christopher Yost & Scott Wegener
The Premise: Dave Sloan is a junior account executive for an advertising firm that specializes in promoting products like cigarettes, junk food, and other products of questionable value to humanity. After he's visited by an angel no one else can see, he learns that he's been tasked with cleansing the world of demons — many of which happen to be masquerading as his least-favorite people. Uncertain if he's actually on a god-given mission or simply going insane, Dave must decide whether to embrace his demon-killing destiny or submit himself for psychiatric evaluation. (You can probably guess which option he chooses.)
The Pitch: The story of a guy who sees secret monsters everywhere he looks has been done a number of times before (including a memorable X-Files" episode and the under-rated 2001 film "Frailty"), but Yost manages to make the concept feel fresh and original in Killer of Demons by adding a healthy dose of comedy and some great supporting characters. From the bawdy angel Uriel who serves as Dave's sidekick, guide, and possible sign of his mental collapse, to the long list of demons that had, until recently, been his coworkers, the world Yost and Wegener have created around their main character is filled with colorful elements with lots of on-screen potential.
Think "Office Space" crossed with "The Evil Dead" and you're on the right track with Yost's blend of gory horror, over-the-top action, and raunchy humor that mines both supernatural lore and the less-distinct hell that comes with being a cog in the corporate machine.
While the book could certainly exist as a mature-audience television series — think of it like a bloodier, raunchier version of "Reaper" or possibly something akin to "Chuck" with a heavy dose of sex, violence, and monsters — a "Killer of Demons" feature film feels like the way to go, with an initial film that follows the first story arc of the series and the potential for sequels as Dave's demon-slaying quest continues.
In order to get the most out of a "Killer of Demons" movie, the project needs a filmmaker who can find the right mix of humor and horror to keep the whole thing shy of becoming an outright comedy or moody, psychological scare-fest. Sam Raimi is an obvious choice, but directors like Eli Craig of "Tucker and Dale vs. Evil" or Joe Cornish from "Attack the Block" feel like logical choices, too. And with Yost's work in the television realm, it's worth it to give him a crack at the screenplay.
The Closing Argument: There's a lot to like about the worlds Killer of Demons seems to have its feet in, and the aforementioned mash-up of "Office Space" and "The Evil Dead" still feels like the best comparison to make for a project like this. There's something terrifying and funny about the corporate experience, and Killer of Demons makes a great argument that the same can be said of hunting monsters, too. Much like "Evil Dead" hero Ashley J. Williams, Dave Sloan is an everyman character that audiences can relate to, who becomes almost superhuman when he sets his mind to vanquishing the creatures tormenting him.
Given the right director and cast, it's easy to envision Killer of Demons as source material for the next fan-favorite, big-screen adventure that keeps audiences alternating between laughs and screams, and makes a hero out of an unassuming desk jockey.
---
Would "Killer of Demons" make a good movie? Chime in below or on Facebook or Twitter.