"jOBS" set photos show Ashton Kutcher as a convincing Steve Jobs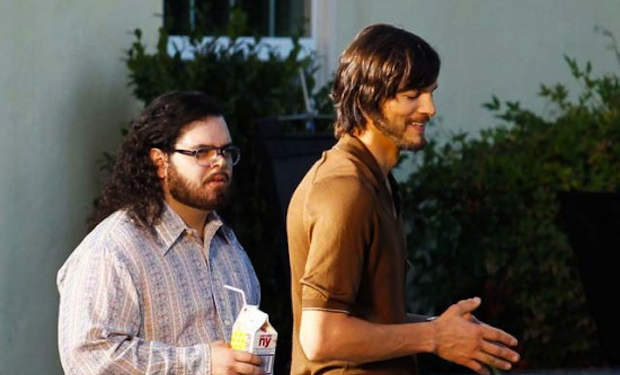 Posted by Terri Schwartz on
Your move, Aaron Sorkin-penned Steve Jobs biopic.
Some new on set photos from "jOBS," the Ashton Kutcher-starring Jobs picture that's also is currently filming in the Apple co-founder's Los Altos home, have hit the web, and show that whoever is in charge of casting for the film deserves a big fat raise. From the moment Kutcher got the gig as Jobs, many realized that the "Two and a Half Men" star was actually perfectly cast as the Apple co-founder. Now we have visual evidence that the rest of the cast looks just as good.
The new images — which come courtesy of OK!, Daily Mail, Pacific Coast News, Just Jared, X17, Splash News and /Film — show Josh Gad as Steve Wozniak, Ahna O'Reilly as Chris-Ann Brennan, Dermot Mulroney as Mike Markkula and some unnamed actor as a great Bill Gates. Maybe it's the authentic setting or maybe it's just the lighting in these scenes, but we think everyone involved in the project look spot-on.
According to the plot synopsis for the film, "jOBS" covers 40 years of Jobs' life and "tells an intensely character-driven story that is as much a sweeping epic as it is a personal tale. An ultimately inspiring story, 'JOBS' pulls no punches and does not speculate, only telling the truthful real life events as seen through his eyes, emotions, and ingenuity." "Swing Vote's" Joshua Michael Stern directs it.
That's not the only Steve Jobs biopic in the works. Sony hired Sorkin to write a competing story, but he has the edge of adapting off of Walter Isaacson's best-selling Jobs biography and the assistance of Wozniak. Now they just need to cast someone who looks as good as Kutcher does as Jobs.
Which of these two biopics are you looking forward to more? Tell us in the comments section below or on Facebook and Twitter.