Jim Carrey backs out of "Dumb and Dumber" sequel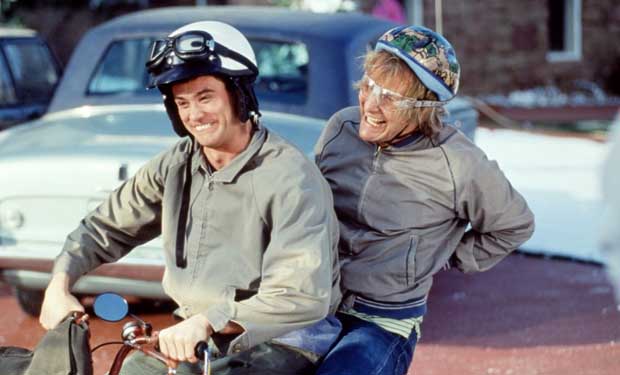 Posted by Terri Schwartz on
For once, it was the studio's lack of enthusiasm about an upcoming sequel that killed a planned movie.
We were all a bit surprised when Jim Carrey started talking about returning to the world of "Dumb and Dumber" while he was doing promotion for "Mr. Popper's Penguins" last year. Even co-director Bobby Farley started talking optimistically about the idea. Both Farley and his brother Peter eventually said they were back on board to direct the project — which was being called "Dumb and Dumber To" — and Carrey and Jeff Daniels (on the rise again thanks to "The Newsroom") were supposed to star in the flick. But now ET Online is reporting that Carrey is done with the idea because New Line and Warner Bros. "showed a lack of enthusiasm regarding the project."
When the outlet reached out to Carrey for comment, he said, "I would have thought 'Dumb and Dumber To' was a no-brainer, after all it's implied in the title."
If the studios were on the fence about the project before, they likely are done with it for good now that Carrey is no longer involved. He's arguably the biggest selling point in the film, which is why we're surprised that WB didn't jump all over the chance to make it. But WB has been cautious about returning to some of their earlier titles, seemingly focusing on comic book movies and new ideas for genre films (like "Gravity" and "Pacific Rim") insteading of rehashing movies that worked for the studio in the past.
Carrey, on the other hand, has been off his game for almost a decade. It makes sense that he'd want to return to movies like "Dumb and Dumber" and "Bruce Almighty" because none of his films he's made since have done as well. Those movies he made after "Bruce Almighty" that did gross over $100 million in the box office were his animated projects — like "Horton Hears a Who" and "A Christmas Carol" — and family-friendly flicks — "A Series of Unfortunate Events" and "Fun with Dick and Jane." Carrey has returned to adult comedy since (we did love "I Love You Phillip Morris") but audiences don't respond to Carrey the bawdy comedian the way they used to.
Our advice? Don't force it. A "Dumb and Dumber" sequel could be nice, but is also totally unnecessary, and there's a bigger chance that it would be bad than that it would be good. For now, we'll just say that Carrey dodged a bullet, even though he was the one to fire it to begin with.
Do you wish Carrey had stuck with "Dumb and Dumber To" or do you think he was right to move on? Tell us in the comments section below or on Facebook and Twitter.