"Iron Man 3" officially heads into production, first photo released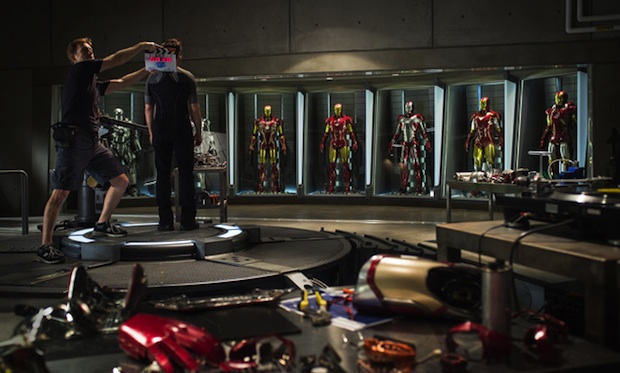 Posted by Terri Schwartz on
It's official: "Iron Man 3" has headed into production.
Though we've been hearing about updates from the set for the past few weeks, Disney Studios sent out a press release this morning announcing that "Iron Man 3" was headed in front of the camera. They also sent out a new official spoiler-free photo from the set that shows Robert Downey Jr.s' Tony Start staring at his seven Iron Man suits.
The press release issued cites Downey, Gwyneth Paltrow, Don Cheadle and Jon Favreau as returning cast members, but doesn't mention any of the new actors who have been cast. That's an interesting decision, as we've learned that Ben Kingsley, Rebecca Hall, Guy Pearce, Ashley Hamilton and Andy Lou have all come on board. Maybe Disney just doesn't want to give away any potentially spoilery elements of their characters — or the movie's plot, since it's not listed — and thus has opted only to talk about returning characters.
Also not mentioned is that Iron Patriot suit that was spotted on the Wilmington, North Carolina set last week. Expect more set photos pretty soon, as "Iron Man 3" is also slated to head to Raleigh/Durham, Miami and China.
What we do know about "Iron Man 3" is that it's based on Warren Ellis's "Iron Man" comic book series "Extremis." Pearce's Aldrich Killian looks to be the movie's big bad as a co-creator of the Extremis serum, which creates a new breed of supersoldier. He and partner Maya Hansen, played by Hall, opt to place the serum in the hands of terrorists and set them up against Iron Man in order to prove the strength of Extremis. In all likelihood, Kingsley's Mandarin villain will be one of the terrorists that they turn to.
Directed by Shane Black, "Iron Man 3" is due in theaters on May 3, 2013.
Are you looking forward to "Iron Man 3"? Tell us in the comments section below or on Facebook and Twitter.