Tim Grierson on Hollywood's Snow White Problem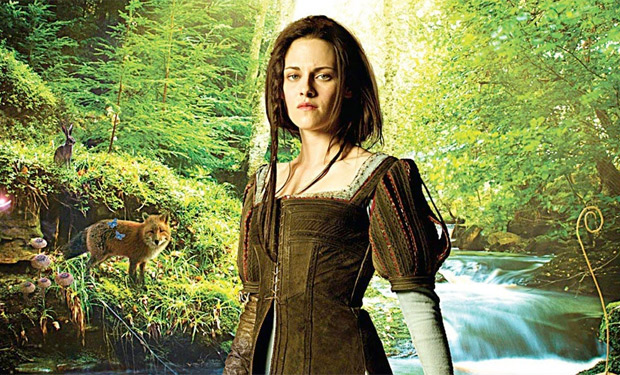 Posted by Tim Grierson on
In an era of reboots and prequels, Hollywood can't just cart out its musty old franchises — they have to reinvent them. For instance, James Bond is no longer a swingin' playboy bedding babes and delivering tart one-liners — now, he's a brooding, grizzled killing machine haunted by the loss of his true love. So it wasn't that surprising when not one but two studios decided to dust off Snow White for the modern age.
Made popular by the Disney film "Snow White and the Seven Dwarfs," which hit U.S. theaters in 1938, the Snow White character began life as a folktale approximately 200 years ago. This year's two Snow White films, "Mirror Mirror" and "Snow White and the Huntsman," aggressively try to reimagine one of the most famous heroines in fiction and, in the process, show us how we as a society still have a tough time dealing with assertive female main characters.
On one hand, this is a time in which we see more female leads in event movies than in the past. There's Bella from "Twilight," Katniss from "The Hunger Games," Zoe Saldana in "Colombiana," and Amanda Seyfried in "Red Riding Hood." Plus, this summer's "Brave" will be the first Pixar film to feature a female main character. And don't forget the "Underworld" and "Resident Evil" series. But the two Snow White movies are particularly interesting because they grapple with a character who, as she's envisioned in the Disney film, is a rather passive person. Yes, Snow White is beautiful and kindhearted — she's always singing some song — but she's not a very proactive or compelling individual. In truth, she represents exactly the sort of negative female stereotype that modern women don't enjoy seeing: She's pretty but meek, waiting for some Prince Charming to come rescue her. Naturally, "Mirror Mirror" and "Snow White and the Huntsman" want to bring her into the 21st century. But I'm not sure their revamped versions of Ms. White are any less irksome.
In "Mirror Mirror," the Snow White story is treated with a sort of cheeky, snarky irreverence. Rather than unabashed sweetness, like in the Disney movie, the film (which stars Lily Collins as Snow White) is sarcastic, constantly elbowing us in the ribs to make sure that we know it's sending up the familiar tale. Ironically, "Mirror Mirror" wants to mock the banality of fairy tales while at the same time being a fairy tale itself. (Love does conquer all in this film, and there's a happy ending.) But as part of its attempt to revamp White's story, the movie wants her to develop a little spine. And so we have Collins playing a cutie-pie princess who's schooled on weapons thanks to her dwarf friends. But more importantly, she's got some spunk to her now, a self-conscious response to the Disney version's blissful blandness. If "Mirror Mirror" wants to show young women that they don't have to grow up to be dainty princesses, then instead it seems like they're just stuck being sassy. Not that the movie really cares about Snow White that much — the evil queen (played by Julia Roberts) gets the best lines and is way more fun. Of course, she's also the villain: a bitchy, petty, vain, aging woman who's supposed to be a hoot because she's totally mean. In other words, the movie argues that being a proactive, weapon-wielding princess will land you Prince Charming, but the audience will always love you more if you're simply evil.
"Snow White and the Huntsman" ups the ante by making Snow White not just resourceful but something of a warrior princess. Played by "Twilight's" Kristen Stewart, Snow White has none of the gentility of the Disney film — barricaded in a tower and waiting to be killed by the evil queen (Charlize Theron), she has to fight for her life to escape, and the rest of the film is a further desperate battle to stay alive. There's nothing demure about this Snow White or idyllic about her world. The film feels like a knee-jerk attempt to recapture the grimness of the original Brothers Grimm folk tale, but what this mostly translates into is a monotonously joyless film in which Snow White must eventually don a suit of armor and lead men into battle. If the Snow White of "Mirror Mirror" is a hip, cutesy young lady, then the one in "Snow White and the Huntsman" is an unsmiling pseudo-man who has to practically give up her femininity to be a generic action hero. What choices.
Of course, it's dangerous to look to movies for role models — and it's ridiculous to assume that young women are so impressionable that they'll blindly accept portrayals of female characters as guides to living. But for all the criticism that so-called "princess culture" receives, I'm not sure if the responses to the phenomenon in "Mirror Mirror" and "Snow White and the Huntsman" are appreciably better. Sure, these Snow Whites aren't helpless lasses, but they're not smart or interesting either. Essentially, they have to become men, taking up arms to prove they're valuable members of society. Perhaps it's better than watching movies where the female characters are just wives or girlfriends of the hero. But it would be nice if the fairest of them all could have a few more options other than just being eye candy or an ass-kicker.