Exclusive Premiere: Keane "Watch How You Go"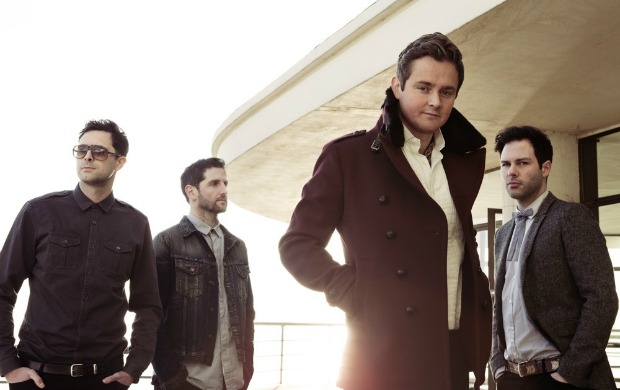 Posted by Melissa Locker on
Keane's piano-led pop sound makes a welcome return in the group's fourth album Strangeland. While the band was on break after 2008's off-beat 80s inspired synth pop album Perfect Symmetry, they've now returned to form and honed their original sound. In the past they frequently drew comparisons to Coldplay and Snow Patrol and it was hard to disagree with the assessment. Now the booming choral arrangements and emotionally-charged orchestrations are more confidently their own. On their new album, the band hasn't veered far from the sound that brought them their early success, but now Keane seems to have found their stride.
The messages telegraphed in Strangeland are simple and sweet. The lyrics delve into love and loyalty, friendship and faith, nostalgia and hope. The songs offer sentiments that everyone can relate to set to brooding beats that everyone can enjoy and soaring vocals sure to inspire even the most hesitant dancer to tap a foot or clap along to the drums. On "Watch How You Go," the album's third track, Tom Chaplin's skill and capability as a vocalist shine, especially when paired with Tim Rice-Oxley's compositions. While it is one of the slower tracks on the album, the pacing and restraint evident in the song really lets the band shine. When Chaplin's voice soars into the chorus it's hard to hold back an emotional response. The track is truly one of the highlights of the album, so needless to say we're delighted to premiere the video.
Here's Keane "Watch How You Go":
In support of their new album, Keane is hitting the road. Here are their U.S. tour dates:
Boston MA 6/12/2012 House of Blues
North Bethesda, MD 6/14/2012 Strathmore Music Theater
New York NY 6/15/2012 Beacon Theatre
Philadelphia PA 6/16/2012 Merriam Theatre
Nashville TN 6/21/2012 Marathon Music Works
Chicago IL 6/22/2012 Vic Theatre
Milwaukee WI 6/23/2012 Pabst Theatre
Denver CO 6/25/2012 Paramount Theatre
Salt Lake CityUT 6/26/2012 Gallivan Center
Los Angeles CA 6/29/2012 Orpheum Theatre
Oakland CA 6/30/2012 Fox Theatre
Want the latest news from IFC? Like us on Facebook and follow us on @IFCtv. You can also like Bunk and Comedy Bang! Bang!.