Exclusive Premiere: "Ghost of Old Highways"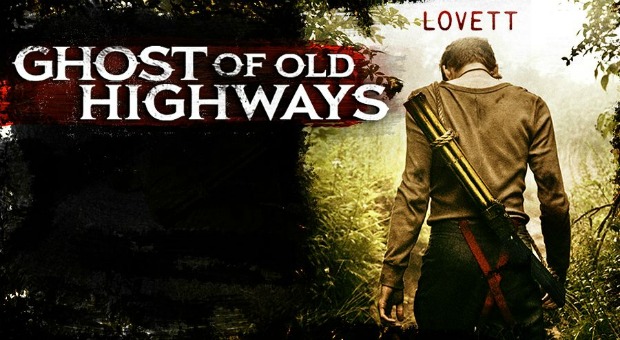 Posted by Melissa Locker on
Ben Lovett doesn't believe in taking it easy. But that's not a surprise. Last year we wrote a profile of Lovett and his wildly ambitious project to make videos for each of the nine songs on his self-published album, Highway Collection.
Inspired by the reception of the songs, Lovett tapped into the Hollywood community of directors and cinematographers — a group he knows well from his work as a film composer — and embarked on his enterprising idea. Lovett collaborated with a cadre of talented directors to bring the idea to fruition. The collaboration resulted in a series of wildly different yet equally remarkable videos from "The Fear," a heart swelling ode to the city of Atlanta, to "Eye of the Storm," a densely atmospheric steampunk-inspired eyeful. Go watch them, we'll wait.
Now comes Lovett's most ambitious project to date. "Ghost of Old Highways" was meant to be the next video in the series, but instead of crafting a video for the song, inspiration took hold. The project went from a song to a script, from a script to a film, from film to a score and then from score back to a song. The result is a stunning short film crafted between Lovett, director Dan Bush, and a crew of ambitious, dedicated and determined volunteers willing to put up with extreme conditions for weeks in order to bring the film to light.
The project began as a conversation between Lovett and director Dan Bush ("The Signal", Magnolia Pictures) about the meaning of the song. "It sounded like one man's ride into a labyrinth of personal darkness and ultimately, a return from it," said Bush. "The journey against one's own demons, grief, and regret, like all real quests is often one as honest and brutal as it is mythic or heroic. "Ghost Of Old Highways" reminds me of that struggle in each of us." The question of how to capture those heady emotions and distill them into a video was the challenge. You see they had no budget, but that didn't stop them from dreaming big. Really big. Bush explained, "We wanted this to feel epic – wanted a grand scale – but we had no money and few resources. I knew if we had the right crew, kept sets to a minimum and made use of vast, remote landscapes – we could really immerse ourselves and the audience in a rich and timeless dreamscape to tell this story."
So they set out to capture that ageless and eternal feel, despite the obstacles of little time and no money. The crew and the cast headed to the mountains outside of Asheville, North Carolina. Each day they filmed, each night they hoofed it back to Asheville, the gear carried up and down the mountain by the volunteer crew. "This production was literally carried on the backs of each and every one of us," said director of photography, Christopher Campbell, "There were no department lines, we all did everything – the producer and director, even Ben himself, carried gear up and down just like everyone else."
While this labor of love started out as a video, it became much much more. The result of the effort is a visually stunning short film, "Ghost of Old Highways," an eerie and unsettling, yet hauntingly beautiful tour de force. "I've never been a part of anything quite like it," said the director, Bush. "We were truly the crew that went uphill to make a music video and came down the mountain with a movie." While Lovett's original four-minute song inspired the film, once the project evolved into a movie, Lovett created an entirely new 15-minute musical score for the film, bringing the project back full circle.
"Ghost Of Old Highways" has now screened in 20 cities, four countries, and won nine film festival awards in 2012 including Best Film, Best Score, and Best Cinematography and, most recently, a Best Soundtrack win at the Madrid International Film Festival.
We are thrilled to be able to share the film "Ghost of Old Highways" with you:
video player loading
.
.
.