Exclusive Premiere: Sound And Vision: Blake Mills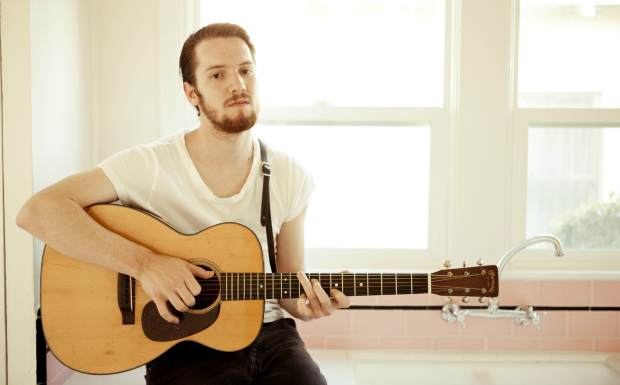 Posted by Melissa Locker on
Meet Blake Mills. At 25, the Venice-based musician has already stacked up a career's worth of gigs as a session and touring guitarist, playing with a diverse array of musicians that span from Cass McCombs to Conor Oberst to Lykke Li to Kid Rock. When producer Rick Rubin needs a guitarist, Mills is the first guy he calls. He's worked with everyone from Mark Ronson to Dangermouse to Don Was. Yet, for despite his eye-popping resume, Mills has never really released an album. Well, sort of. While his album "Break Mirrors" has been out on Record Collection since November 2010, it never really "came out." The album wasn't sold in stores, didn't have a barcode, was never sent out to radio or to press, etc. But as friends burned copies for their friends and a small cult following ensued, word about Blake and "Break Mirrors" got out.
Then there are his impromptu jams at Mollusk Surf Shop in Venice, CA. At first it was just Blake and his girlfriend (of the up-and-coming LA band HAIM) performing, but as rumors of the music spread, people started coming out of the woodwork to watch and to sit in. People like Jackson Brown, Cass Mccombs, Jenny Lewis, Charlie Sexton, Billy Gibbons, Dave Rawlings, Val Mccallum, Smokey Hormel, and Matt Sweeney have all swung by the shop to play with Blake.
Blake spent much of last year touring with and opening for the legendary Lucinda Williams and this summer/fall he is the special guest for Fiona Apple's entire US tour and will accompany her on guitar during her set.
In his spare time, Blake has taken up producing. Most recently he co-produced the new Jesca Hoop record, co-produced a track with Bill Gibbons for the forthcoming Fleetwood Mac tribute record (Concord), produced the latest album from Nonesuch artist Sara Watkins and produced some tracks for former bandmates Dawes.
Blake Mills is somebody to watch. Luckily, you can. Right here in the fourth installment of Sound & Vision, a series of web documentaries highlighting the individual stories of emerging artists. For more information about Sound & Vision visit redbullsoundstage.com:
video player loading
.
.
.