E3 2012: "Watch Dogs" could be the "Breaking Bad" of video games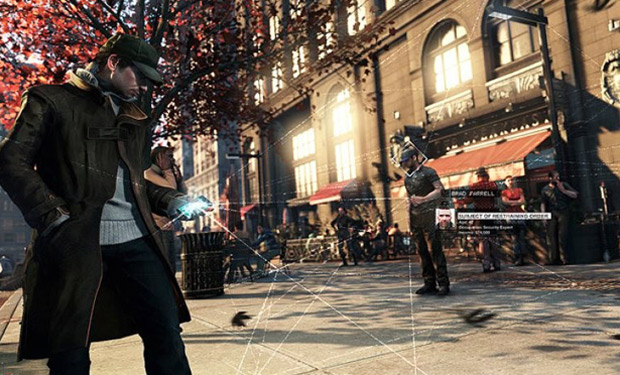 Posted by IFC on
By Michael Rougeau
LOS ANGELES, California — The video game industry is normally plagued by the same "sequelitis" that's afflicting the rest of the entertainment world, but once in a while something comes along that reminds gamers just why they get excited about new games. At this week's Electronic Entertainment Expo in LA, that something was "Watch Dogs," a game unlike anything that's come before it.
Publisher and developer Ubisoft ("Splinter Cell," "Assassin's Creed," "Far Cry") has been secretly working on "Watch Dogs" at its Montreal branch for two years, and the game's creative director, Jonathan Morin, was excited to finally be able to show it off.
"Watch Dogs" takes place in a dystopian near-future that's eerily similar to the current reality of everyday life. US cities are monitored and controlled by central computers known as ctOS systems, and citizens have sacrificed their last shreds of privacy for connectivity, convenience and a paper-thin sense of security. In this world exists one Aiden Pearce, a man "shaped by violence", said Morin.
Living in a Chicago under siege from technology, Pearce "started to become a little bit obsessed and fucked up in his head about surveillance and protection," the creative director explained. "He's a guy who monitors his own family without them knowing."
Pearce possesses the singular ability to hack into ctOS-controlled systems, which constitute practically everything in the city. With the tap of a button on his familiar-looking mobile device, he can listen in on nearby phone calls, control traffic signals, peer through security cameras, and discover deeply personal information about anyone he sets his eyes on. In games like "Bioshock" and "Deus Ex: Human Revolution", hacking something means completing repetitive and arbitrary mini-games, but Morin said he's not selling the fantasy of being a hacker. Accomplishing the same thing in "Watch Dogs" without all the fluff makes it better-paced and more immersive.
The game calls each citizen's ctOS profile a "digital shadow", but the denizens of "Watch Dogs" seem to possess an almost Orwellian disregard for their own privacy. Like "1984", it would have seemed like pure fiction as recently as ten years ago. But these days, when amassing user data is the rule for most companies and not the exception, it's completely plausible. It's uncanny how relevant "Watch Dogs" is to the current relationship between technology and privacy.
Despite its relevance, Morin said he has no agenda in creating "Watch Dogs." "It's not about shoehorning a message or pressing a thought into the minds of people," he said, though he added, "If people can learn a bit more about where technology's leading us, and what exactly can we do about it, and if you can make them think and have their own opinion on the subject I think it's spectacular."
"We're tapping into this, but we're using stuff that we use every day. We press a button on the phone. Everybody understands that," Morin continued. "Ten years ago that would have been a nightmare to explain. Today, it seems like everything is connected, and it seems like everything works that way anyway." He said that the idea for ctOS came from Rio De Janeiro, where tech giant IBM is installing "Smart City" technology to help prepare for the 2016 Summer Olympics.
But that technology doesn't simply provide a backdrop for "just running around shooting and driving," Morin said. "We're providing you access — easy access — to your surroundings," he explained, and that access will factor into every facet of gameplay. Driving won't just be driving — it will be using the city, as well, by changing lights or raising drawbridges to impede pursuers' progress.
Pearce won't have to threaten someone with violence to get what he wants. Instead, players will spend hours observing a target's life, meeting with his family, learning his motivations and, hopefully, his secrets. Then "he gets in a room, he can sit down, slide a little envelope toward the guy, and look at him in the eye and say, 'You're going to tell me everything you know or I'm gonna destroy your fucking life.'" Presumably this will be more effective and believable than a typical games' bullheaded, strong-armed tactics, and it will allow Pearce to undermine the most powerful forces in the city.
Morin was hush-hush on story specifics, but the level that Ubisoft showed off during their June 4 conference and later behind closed doors on the convention floor sees Pearce infiltrating an art show on a personal vendetta. His ultimate goal is the elimination of the gallery's patron, the powerful Joseph Demarco, but how he achieves that goal will largely be up to the player.
For these demonstrations, Pearce enters the gallery by disrupting the bouncer's phone call, causing him to stray from his post and allowing Pearce to stroll through the front door. He plans to use himself as bait for Demarco, and sure enough, Pearce quickly learns (by eavesdropping on the target's assistant's phone call) that he's on his way. He watches Demarco and his entourage of heavily armed goons approach on his GPS, then hacks a traffic signal to cause a massive pileup.
In the ensuing firefight, Pearce's repertoire of hacking skills doesn't help him, but his marksmanship does. Just before he puts a bullet in Demarco's brain, he tells him, "You're gonna deliver a message for me."
Morin sees him as the Walter White (or "Heisenberg") of "Watch Dogs", referencing AMC's "Breaking Bad" as one of his main influences. "When I think about it for a second, he's the most self-centered motherfucker on the planet, right?" he said, speaking of Heisenberg in terms that could, it seems, easily be applied to Pearce as well. "And then I go back and I say, 'Oh my god, he's awesome, he needs to win.' And what's great about that is it's true for all the characters in the series, right? It's the same in our game."
In the E3 demo, trees sway in the breeze, car bumpers fall off when sprayed with bullets, and characters actually look and speak like real people. From a purely technical standpoint, it seems too advanced for the gaming hardware that's currently available, and Morin didn't deny that Ubisoft is considering releasing the game on the next generation of consoles (which have yet to be revealed by Microsoft and Sony). "We want to push the content as far as possible," he said. He did confirm that the game will be released on PC, Xbox 360 and PlayStation 3, with mobile apps on tablets and smartphones to help monitor the city and interact with the game.
Regardless of where "Watch Dogs" eventually releases, Morin sees that cutting-edge style as something he somehow owes to his audience. "I think game developers need to listen to and recognize that people have been trained now to embrace something more sophisticated and more complex," he said. "I think that entertainment evolves with its audience." And games, like gamers, it seems, have evolved.
Are we headed toward a "Watch Dogs" future? Tell us in the comments section below or on Facebook and Twitter.