E3 2012: Capcom promises "Resident Evil 6" will "satisfy fans of the series"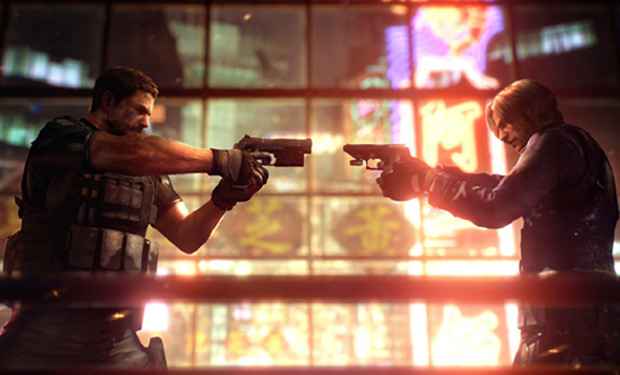 Posted by IFC on
By Michael Rougeau
LOS ANGELES, California — The "Resident Evil" series' slow shift from tense survival horror to balls-out action shooter has been both predictable and, for some, difficult to watch. But even the most ardent of fans have mostly resigned themselves to the reality that the series will (thankfully, for some) never revert to its awkwardly-controlled, fixed-perspective roots. No matter what Capcom may tell them, with a wink and a quip, behind closed doors at E3.
"There's a fear that comes across," said game producer Yoshiaki Hirabayashi. "You can have thrilling fear in action that makes, you know — it's something you have to be there to experience yourself." Having just played through a brief section of the game's story, during which four characters team up to battle a hulking, frothing beast known as the Ustanak, Hirabayashi opened the floor up to questions. He spoke to a small crowd of about a dozen reporters through a translator.
"We thought this was a really good example to show you where that action comes into play," he continued. "But please don't think that this is representative of every single scene in the game — there's going to be a giant explosion with an enemy falling out of the sky on top of you."
The demo he showed off was designed specifically to illustrate a brand new concept in "Resident Evil 6" known as Cross Over. It goes like this: the game's story is made up of three more-or-less parallel plot lines, one for Chris Redfield and series newcomer Piers Nivens, one for Leon Kennedy and another newcomer, Helena Harper, and one for Jake Wesker (son of series villain Albert) and Sherry Birkin, who first appeared as a child in "Resident Evil 2." The three duos embark on separate journeys that will occasionally intersect, and that's when the opportunity for a Cross Over emerges.
Upon reaching one of these intersections, the game will ask players whether they'd like to open up their experience to other live players. It'll then pause and search for online players who've reached the same point in the story, temporarily merging the two games until that section is complete. During that time, the four players can work together or split up (sometimes even swapping partners briefly) to fight bosses, solve puzzles and so forth.
Players can choose to decline the Cross Over opportunity or play offline, in which case the other three characters will be controlled by the game's AI. They can even request that the game only match them up with friends during Cross Over play, though that would require players on their friend lists to reach the same intersection as them around the same time and at the same difficulty, which seems rather unlikely unless it's planned in advance. Rather, then, the idea is for players to be matched up with random allies, cultivating a sense of uncertainty that could add to the game's tension.
"We feel the exciting part of this feature is to not know who you're going to be matched up with," Hirabayashi said. "It's kind of a surprise." Players who want to game with their friends, he added, can play more straightforward co-op by taking control of two characters in the same plot line.
In Hirabayashi's demo, Leon and Helena are recovering from a plane crash in the middle of a Chinese city when they encounter Jake and Sherry, who are being hunted by the Ustanak. The group quickly realize that Leon's target is Sherry's boss, though they're saved from coming to blows more by the arrival of the beasty than by their own ability to peacefully resolve said conflict of interests. The player switches between weapons quickly via a snazzy new real-time inventory UI, but all the bullets in the world can't seem to harm the Ustanak, who absorbs them like the meaty sponge he is.
Ten feet tall, with interchangeable arm attachments (sporting a mini-gun or claw to suit the situation) and a cage strapped to his back, the Ustanak snares players who get too close and momentarily incapacitates them. "He's like an ex-girlfriend," Leon says, the heartthrob that he is. "Guy doesn't know when to quit." The four heroes take turns climbing ladders to gain high ground and shove explosive barrels down onto his head, continuing to shoot at him even when they're knocked on their backs. Their new ability to run and shoot simultaneously (hard to believe, isn't it?) comes in quite handy, as do fancy dodging and up-close combat mechanics.
There was little of the series' past glories evident here, and the gameplay itself won't make any best-of-E3 lists. But it's definitely nice to see Capcom going the extra mile to devise something that's never been done before, especially something that could generate such unique opportunities for interactive storytelling. "There could be points with, not just literal gameplay cross overs, but you might see — Leon could be on an airplane with a television screen in the background, and you see Chris on the TV," Hirabayashi explained. Putting a pin in Leon's storyline and starting up Chris's will eventually bring players to the same point, but from an alternate point of view. "You'll be free to explore the story from all sides in any order you like," Hirabayashi added.
Besides, if he can be taken at his word, there will be horror aplenty elsewhere in "Resident Evil 6." Capcom just didn't want to show it off now. "The best way to show you Cross Over is four people kicking ass against a big enemy," he reasoned. "We want to keep the horror for you to experience. I mean, if we were to show 'Resident Evil 1' here, we wouldn't put a screen up and show you two dogs coming in the window. Because then you'd go and play the game and, like, 'Oh yeah, that part.' That wouldn't be horror for you anymore. So we really want to keep that stuff for you. You know, the best time for you to experience horror is when you've got the game in your hands and you're playing it and the lights are off and you've got the popcorn or whatever."
IFC had the opportunity to briefly try out the Chris/Piers and Leon/Helena missions, and they did indeed feel like completely opposite ends of a very wide spectrum. Chris's was a fast-paced shooting gallery similar to "Resident Evil 5," in which he co-starred, and Leon's was — well, Leon's was slow. Painfully slow. It too was unimpressive, to say the least, but there's still hope that Capcom's simply withholding the good bits until the game's actually out for Xbox 360, PS3 and PC on October 2.
"Leon's got this real gothic horror aspect to his storyline, if you think of some really good classic 'Resident Evil' horror," Hirabayashi promised, adding that each of the three plot lines will have its own type of scares. "So please rest assured there's a good balance of elements in the game, and that should satisfy fans of the series."
Are you happy with the ways "Resident Evil" has evolved? Tell us in the comments section below or on Facebook and Twitter.