E3 2012: "Halo 4" demo and gameplay promises "everything matters"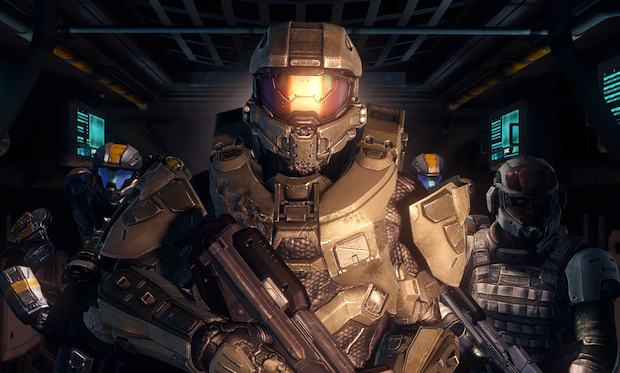 Posted by Terri Schwartz on
There will be new weapons, abilities and "surprises," some of which have already been announced. The campaign will be the bulk of "Halo 4's" story and will be connected to the novels written by Bear and Karen Traviss. But the gameplay experience won't stop there. In addition to the classic multiplayer mode present in previous "Halo" games, 343 is introducing a new type of cooperative multiplayer content called Spartan Ops.
This is 343's way of combining the way they release new "Halo" stories in novels with the downloadable gameplay maps and missions that are available after a new game launches. Spartan Ops is sort of like a "season" of new content that will be released in new "episodes" each week over the course of months. It takes place six months after the events of "Halo 4," and each episode will be five to seven minutes in length, with five gameplay missions included. These O'Connor and Wolfkill kept comparing to television episodes, with the hope that this series will continue on for years — likely until "Halo 5" is released — as long as users still want it.
"The stories aren't just 'blow up the generator' and you see the generator explode in CG," O'Connor said. "It's you're going to meet really important characters and meaningful characters and things are going to happen to people you love, things are going to happen to actually change the course of the universe, so some of the biggest story beats to ever happen in the 'Halo' universe are actually going to happen in Spartan Ops. So it's not just throwaway content by any stretch of the imagination."
The first season will also be free to everyone who has a copy of "Halo 4," even if it's rented or pre-used. The same guarantee can't be said for future seasons, but at least all this downloadable content will be available without an additional cost.
Within the "Halo 4" story, War Games is simulated training for Spartan Ops. "It's absolutely an evolution of our existing multiplayer suite and you can play all the classic games that you like — Capture the Flag and Slayer — but we've added a bunch of stuff," O'Connor said.
It was War Games and Spartan Ops that were available to play at an exclusive "Halo 4" event that happened Tuesday night. Much of the playable content was the same as what was shown in the demo, with players battling against Promethean Crawlers, Knights and Watchers. The new examples of enemies have different attack patterns than players will be used to from Grunts, Jackals and Elites. There will also be new Promethean weapons, but for the most part the gameplay experience in "Halo 4" is very similar to "Halo: Reach."
The Storm Rifle, Scattershot and Sticky Detonator were three examples of the new weapons, which require players to use new tactics to defeat their enemies. Crawlers, for instance, travel in packs, and users will quickly find themselves overwhelmed by the creatures. Watchers will continue to spawn new enemies until they are defeated. But the essence of the game — at least as it was shown in this playable content — was the same as in "Halo: Reach."
Fans arrived at the event in all shapes and sizes. Whedon regulars Nathan Fillion, Alan Tudyk and Fran Kranz were all there just because they wanted to check out the game (Fillion and Tudyk both lent their voices to previous "Halo" games), while "Friday Night Lights" star Scott Porter was also in attendance. 343 has some big ideas for their first jaunt into the "Halo" universe, but it's clear that they're doing it as carefully, respectfully and passionately as they can.
"It's been a long plan, but it's about to pay off," O'Connor said.
"Halo 4" will come out for Xbox 360 on November 6.
Are you looking forward to "Halo 4"? Tell us in the comments section below or on Facebook and Twitter.