E3 2012: "Halo 4" demo and gameplay promises "everything matters"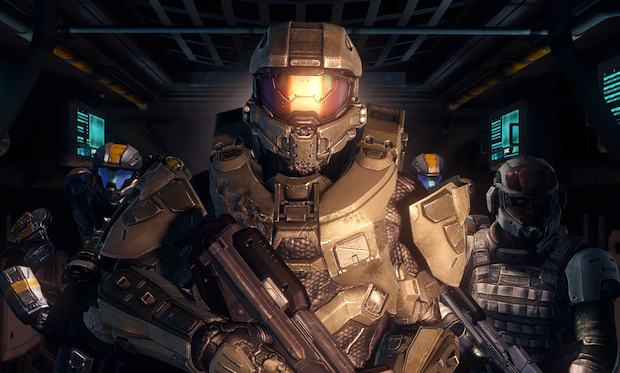 Posted by Terri Schwartz on
LOS ANGELES, California — The Electronic Entertainment Expo is fully underway in Los Angeles, and even with hundreds of games for attendees to see, it's easy to argue that "Halo 4" is one of the most hotly anticipated titles in attendance. Microsoft and 343 Industries announced the follow-up to "Halo 3" last year at E3, and this year they brought a demo and some playable elements of the game for a select few to check out.
IFC was lucky enough to sit down for a demo of the game hosted by executive producer Kiki Wolfkill and franchise development director Frank O'Connor. Both seemed very aware of the legacy "Halo 4" is continuing, and they seemed ready to face that challenge head-on.
"With 'Halo 4,' we do look at it as the start of the next 10 years, the start of a new saga for 'Halo,'" Wolfkill said, adding that they have identified the strengths of the franchise as something to focus on in this installment. "Our aspirations are definitely to deliver on an epic sci-fi experience. I think that's a key piece of 'Halo,' and be able to deliver on that mystery and that awe and that sense of wonder of being somewhere new and alien."
Though "Halo 3" seemingly concluded main character Master Chief's adventures, there have been other "Halo" games released since. "Halo: Reach" took place before the events of "Halo," while "Halo Wars" and "Halo 3: ODST" expanded the story in tangential directions. There have also been countless novels written that take place in the "Halo" universe and elaborate on the series' mythology. But according to O'Connor, that was all in preparation of "Halo 4."
"We realized that these things that take place in the alleyways and corners of the 'Halo' universe aren't nearly as compelling or satisfying as the mainline story and the characters that people are familiar with. So it was a really simple decision: From now on, everything matters," O'Connor said. "So every piece of story content that we've added to the universe since that point will actually pay off in 'Halo 4.' The characters that you've learned about, the technologies you've learned about, the mysteries of the Forerunner universe: everything's going to be in 'Halo 4.'"
"Halo 4" takes place five years after the events of "Halo 3." As players who completed "Halo 3″on legendary difficulty will know, Master Chief was left in crysoleep in orbit above a mysterious alien planet. "Halo 4" will pick up right from where that left off, with Chief landing on the planet and facing off with new enemies there.
Those enemies will be called Prometheans, which are "effectively" Forerunners, as explained by O'Connor. The species was introduced in the "Halo" novels written by Greg Bear, and is the first set of new aliens that have been brought into the game franchise since the Covenant in the first "Halo."
That's not to say that the Covenant won't be present in "Halo 4" as well. Whatever uneasy alliance there was at the end of "Halo 3" has since dissipated.
"The alliance with these particular Covenant is gone. Every Covenant that you encounter in 'Halo 4' specifically is a bad guy, and that will be very apparent why at the start of the game," O'Connor said. "[The Covenant and Prometheans] will interact with each other and in various different ways. Sometimes they'll be cooperating with you and other elements they'll be resisting each other."