E3 2012: "Assassin's Creed 3" naval warfare is "a revelation" for Ubisoft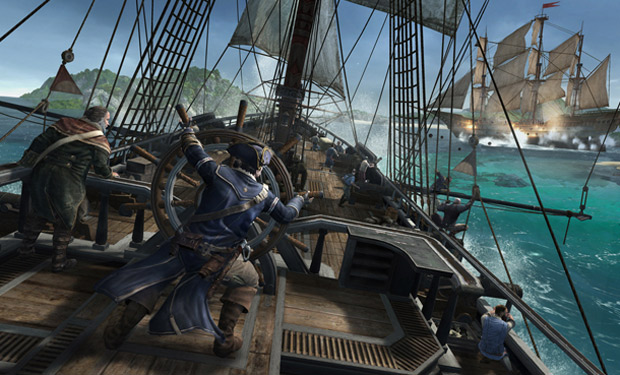 Posted by IFC on
By Michael Rougeau
LOS ANGELES, California — Ubisoft's "Assassin's Creed" series has already gone places no other games have before, and now, in it's third numbered entry, it's doing it again. "Assassin's Creed 3" was one of the belles of this year's E3 ball, and for good reason. Announced in February, the game is set in New York, Philadelphia and Boston before, during and after the American Revolution, or as creative director Alex Hutchinson calls it, the British Civil War.
"Until the end of the game, or the end of the revolution, they're all British, you know what I mean?" he told IFC, laughing. "Everybody there is British. It's a colony, you know what I mean? Like, that's the whole point of it."
The war, he meant — that's the point of the war. But the war is not the point of "Assassin's Creed 3." This isn't the only game to ever star a Native American. But Hutchinson and his teams at Ubisoft's Montreal, Quebec City, Annecy, and Singapore studios are going to extra lengths to ensure that protagonist Ratohnhake:ton (or, by his English name, Connor Kenway) is an authentic representation of his people. They consulted with Native American advisors and hired a Native American voice actor to make sure everything from Connor's speech to his gear is authentic.
The titular Assassin is always the heart of an "Assassin's Creed" game. In the first game's recreations of 12th century Damascus and Jerusalem, Altair introduced gamers to the ancient war between the Assassins and Templars. In "Assassin's Creed 2" and its spin-offs, the noble Ezio explored 15th-century Italy and Constantinople. All of this was seen through the "genetic memories" of Desmond Miles, a modern-day Assassin whose importance escalates with every entry in the series.
The 18th-century British colony of America seems at first like the odd era out, but Hutchinson assured IFC that it would fit right in. "We're not 'The Patriot.' The story is not the fight for the American Revolution. The American Revolution happens in the background while you're going about your business with killing Templars," Hutchinson said. "Trust us. We have a plan."
It may use the Revolution as a backdrop for the Templar-Assassin war, but even that is just a lens through which to come to know Connor, who'll kill Templars on both sides of the larger conflict. "Who is this guy? Why does he join the Assassins? Why does he even care about the American Revolution, you know? He's a Native American. How does all this happen?" Hutchinson asked. "It's a 30-year story from before, during, in, and after the revolution. And it's kind of the story of his life."
As part of Ubisoft's efforts to make the game feel fresh, they've reworked everything from combat and movement to non-playable characters' behavior. But the real surprise at E3 was something no one predicted: full-on naval warfare. Players will be able to take to the high seas and control Connor as he commandeers his very own schooner, barking orders at the crew and maneuvering around enemy ships before unleashing volleys of cannon fire.
In the demo Ubisoft showed off at E3, Connor's ship fired chained-together and flaming cannonballs to disable another vessel and drew up alongside it as the crew prepared to board. The demo ended there, but Hutchinson promised that ship-to-ship combat and other swashbuckling adventures will constitute "a significant chunk" of the game. "There's several hours of gameplay possible at sea if you want to get into it," he said. "There's a chunk that's in the main path and then there's also a big side story that takes place on the high seas."
Ubisoft Singapore is in charge of the naval portions of "Assassin's Creed 3," and the game's mission director, Phil Bergeron, told IFC that they almost did too good a job. It was too realistic, and they had to send it back to Singapore and have them "arcade it up a little bit," said Bergeron. "For us it's like a revelation. It's like wow, we could make a whole game out of this," he said, as his ship bobbed up and down on a stormy sea.
"It's a delicate balance to get it to be fun and easy, you know, and not too simulator-heavy, but also believable," Hutchinson said after the demo. "You're trying to find that line between believability and fun so that it's good to play but you don't have to think — I mean the boat took half an hour to turn around with that period. So that's not exactly couch gameplay."
The new time period brings plenty of other changes to the series. Connor will spend as much time climbing trees as past Assassins spent climbing buildings, and navigating battlefields populated by literally thousands of redcoats and patriots will provide unique new challenges. The game's controls have even been revamped, with the series' signature free-running mechanics now accomplished by holding down a single button instead of two. "We wanted to streamline it," Hutchinson said. "We wanted to make it more accessible."
Multiplayer, the only portion of the game that was actually playable at E3, remains largely unchanged from past games, though with new modes, maps, and abilities. "Thanks to 'AC 3′ we'll have a brand new setting, so we really play with that," multiplayer director Damien Kieken told IFC, referring to the series' first map set outside city walls, on a field of ice and grounded ships. "We're evolving the core gameplay every year to make it more streamlined, more easy to access, but also keeping the deepness that we wanted since the first game."
Hutchinson seems excited by the challenges of developing a game that can touch on everything from slavery to the founding fathers. "We wanted a pivotal moment in history. We wanted a place that other games hadn't been," he said. "It's funny, everyone's like 'Oh, it makes perfect sense!' now, but when we announced it was like 'This makes no sense! How is it possible? People lived in tents, and Christopher Columbus, and Billy the Kid!'" Whatever that means.
They're taking liberties with American history, but they're also portraying household names in ways that players aren't necessarily used to: as real people. "The fun in meeting them is the idea of meeting someone who, you know, in George Washington's case, wasn't certain that it was even a good idea to fight, wasn't certain they were going to win," Hutchinson said.
And although the naval battles were last week's big reveal, he promised that "Assassin's Creed 3" is still full of surprises — and that they won't be revealed until the game actually comes out in October for Xbox 360, PS3, Wii U, and PC. "I'm tired of having shown everything before we ship the game, you know what I mean? I hate movie trailers. I don't watch movie trailers anymore."
As for "Assassin's Creed 4," "5" and "6"? "I'm legally unable to answer your question," he said, ruefully.
What settings would you like to explore in future "Assassin's Creed" games? Tell us in the comments section below or on Facebook and Twitter.