E3 2012: "Dark Souls: Prepare To Die" edition will be "so satisfying" for fans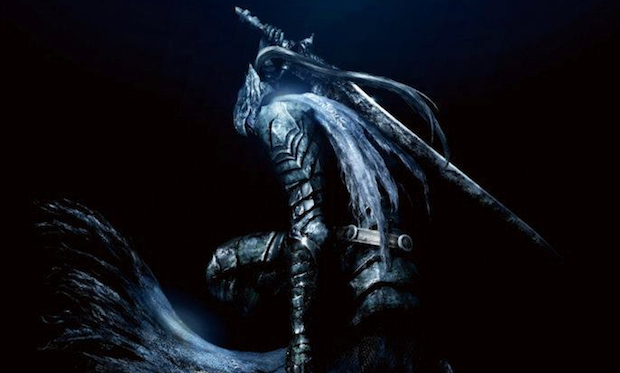 Posted by Terri Schwartz on
LOS ANGELES, California — Namco Bandai took a gamble on "Dark Souls" when it was released for consoles last fall, and it paid off. The action RPG was a challenge for players, making them adapt quickly to the game's mechanics and learn new strategies or else face repeated deaths from its enemies and environments, but the game earned itself a large cult following. Fans started a petition for Namco Bandai to port the game to PC so all users could play, and after more than a hundred thousand signatures, the publisher complied.
"Dark Souls: Prepare To Die" was announced in April, with developer From Software going into "crunch" mode to bring it to PCs. From Software announced they would add new material to the game for its PC edition, and console gamers started their own petition to have that content be available as DLC. From and Namco Bandai complied, and the new material had a presence at E3 this year, though it was not playable.
Senior manager for Bandai label products Nobu Taguchi said that this was in an attempt to preserve the mystery of the additional content until it is released on August 24 for PCs and later in the fall for consoles. It will include new bosses, like the Sanctuary Guardian that was shown in a demo video on the E3 floor, as well as new enemies, new armor, new weapons, new lore, new maps, new items and new magic.
"The amount of excitement that I can only say by words right now is just phenomenal," Taguchi, a self-professed fan of the game, gushed. "It's a phenomenal piece and fans will definitely love it, and I'm going to the extent that I'm willing to bet my life's savings that this will satisfy every single 'Dark Souls' player that's out there."
He said that an experienced "Dark Souls" player will be able to do a rush A-to-Z playthrough of the new content in about five to six hours, while a more exploratory trek through the additional material could take up to 10 hours. And that's not to mention the desire fans will have to go back after they finish and start the game from scratch with a new character, which Taguchi said could be an additional 100 hours.
One of the other more exciting new elements of the "Prepare to Die" edition is the inclusion of a new form of player versus player combat. In "Dark Souls," players who wanted to fight against others could "invade" the world of anyone who was signed online playing the game in its "human" mode, whether they wanted to be invaded or not. Now there will be an "arena" location where players can come to specifically because they want to battle against their peers. PC gamers won't be able to battle against those using the PS3 and Xbox 360, but they will be able to fight against players on their own platform.
"It kind of adds more flavor to the concept of how the actual PvP plays, without detrimenting somebody else's gameplay who's trying to enjoy adventuring, trying to play the game aspect of it," Taguchi said. He added that players can choose from one-on-one, two-on-two or death match styles of battling.
As Namco Bandai and From Software aren't particularly known for their PC prowess, there has been some concern from fans that the PC port of the game won't be as optimized as it could be. Taguchi addressed this concern, saying that Namco Bandai is aware of its shortcomings and is trying to make the "Dark Souls" PC edition be as good as it can be.
"I think one of the beauties of the PC is that the hardware spec is obviously very strong. There's a lot people who are used to gaming on PCs, so if you notice, they have a lot more stronger processing power on top of it," he said. "In order to maintain the authenticity of what the consoles already have, we basically did make a direct port plus a few tweaks to kind of make things a little bit better. I won't say it's moving at 60 frames per second or anything, but it moves to the extent that it satisfies a lot of people's concerns that they had with it."
He added that one way fans' concerns have been addressed is by making the game available on PCs both through Games for Windows Live and Steam.
"It was a difficult process because, realistically speaking, our background and From Software's background is not very PC oriented, so when we heard the many community complaints or concerns over it, that was when we started exploring the possibility of Steam and fortunately and happily we were able to announce that we will be also releasing this on Steam as well," Taguchi said.
Even if the "Prepare to Die" edition is successful, Taguchi said there likely won't be additional DLC released in the future. This material was meant as a "thank you" to fans who asked for the game to be released on PC, but went against director Hidetaka Miyazaki's original claim that there would be no additional content. That being said, this new content is going to make fans very, very happy.
"There's so much content in there that I wish I could tell you. It will blow the 'Dark Souls' player's mind. It is probably going to be so satisfying that I'm literally going to be expecting people to drain their humanity away in this game. Literally," Taguchi said. "In the real world and real game, we will suck your humanity out. We will make you deprived."
Are you looking forward to "Dark Souls: Prepare to Die" edition? Tell us in the comments section below or on Facebook and Twitter.