"Dredd 3D" trailer is the only thing fighting for order in the chaos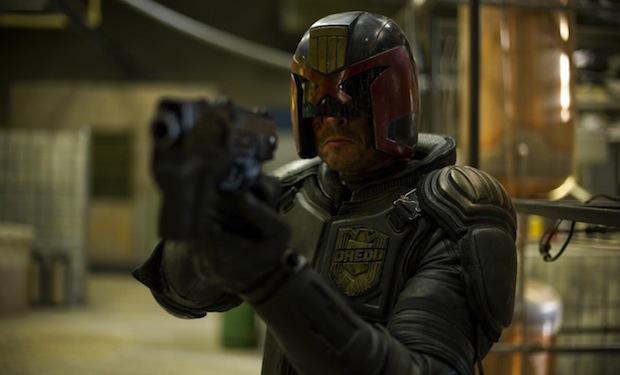 Posted by Terri Schwartz on
Anarchy isn't the law in Mega-City One. "Dredd" is the law. That's what the first trailer for the movie has proved for us over and over again.
The upcoming retelling of the beloved comic book series comes at us from director Pete Travis, and it seems like he's at least nailed down the casting perfectly. We all love ourselves some Sylvester Stallone, but Karl Urban clearly understands what it takes to make Judge Dredd induce some serious terror. From his gravelly voice to his angry snarl to the machismo that nearly drips off of him, it's clear that he was the perfect man for this part.
Olivia Thirlby doesn't do too badly for herself either. The woman we're used to seeing in cute little indies is here to show off her badass side, and it looks like she's totally up for the challenge. And then there's Lena Headey, who already has proved she's got "villain" down pat in "Game of Thrones" but is back and badder than ever as the drug-dealing Ma-Ma.
It's worth noting that "Dredd" comes from "28 Days Later" and "Sunshine" scribe Alex Garland, so it automatically has a leg up in our books. Granted, this isn't a Danny Boyle film, but Garland has proved he knows a thing or two about scripting tense, dark action films.
"Dredd" takes place in the futuristic world of Mega-City One, where a reality-altering drug called Slo-Mo has turned into a plague destroying the city's populous. It's up to Judges Dredd and Anderson to stop the criminal Ma-Ma who is spreading Slo-Mo throughout the city. The flick hits theaters in the US on September 21.
What did you think of the first trailer for "Dredd"? Tell us in the comments section below or on Facebook andTwitter.