Will Dominic Cooper return for "Captain America 2"?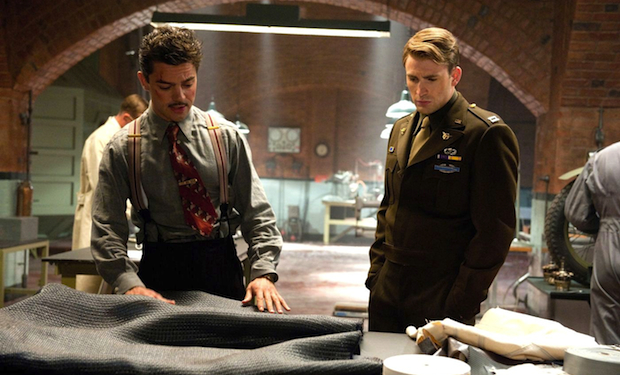 Posted by Terri Schwartz on
With the sequel to "Captain America: The First Avenger" set to take place during the present day, it seems as though many of the characters from the first film will be left in the past. But the writers for the flick have said that there will be some flashbacks to the first film's World War II time period, which leaves us to wonder which of those characters will return in "Captain America 2."
Collider put the question to Dominic Cooper, who played a young Howard Stark in "Captain America." Since casting hasn't really begun for the upcoming movie, it's not much of a surprise that he hasn't heard anything one way or another.
"I just don't know," he said. "That one probably, because I'm the father, the next one I imagine will come later. But you never know, anything can happen to any of the characters at any time. They're like the comics. But I don't know. They're incredible projects."
Considering the affect Howard has on Tony Stark's storyline in the "Iron Man" movies, we would guess we'll see more of him in his prime through flashbacks in "Captain America 2." But that movie is still in its development stages, as Joe and Anthony Russo were just brought on to direct the project and it won't hit theaters until April 4, 2014, so we'll probably have to wait a while until we know for sure.
Then again, Cooper could always appear as Howard Stark in a different Marvel movie — like, say, "Iron Man 3." John Slattery played an older version of the character in "Iron Man 2," but the inclusion of Cooper in a future "Iron Man" movie could help tie together the larger Marvel cinematic universe.
Speaking of the Marvel universe, Cooper admitted to Collider that the comic book world is still something that's new to him.
"I didn't really grow up with the comics," he said. "But I had friends that were, and now I can sort of see the pleasures of them and how creative they are. When you work with people who are so passionate about their product it's kinda inspiring. They start rambling on to you about, 'Oh, you know, when you're character in comic book 42, the emperor turns– ' and you just sit there nodding your head. But you're amazed by their excitement, and it's totally inspiring, although deeply worrying because you know you have a lot of people who have very, very clear views and ideas on how they perceive the characters."
Do you want Cooper to come back for "Captain America 2"? Tell us in the comments section below or on Facebook and Twitter.