"Django Unchained" trailer unveils Quentin Tarantino's spaghetti western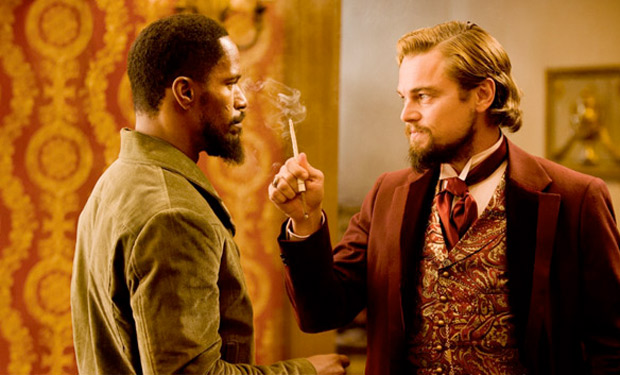 Posted by Terri Schwartz on
Okay, so now we get why everyone was tweeting "the D is silent" after viewing a sizzle reel for "Django Unchained" at Cannes.
A two and a half minute long teaser trailer for the movie has been released, and it has confirmed our belief that "Django Unchained" will be awesome. Though it's surprisingly toned down for a Quentin Tarantino project, we get a good sense of the fun ridiculousness that this twist on the Western genre will treat us to.
Jamie Foxx gives a subdued but strong performance here as titular character Django, and Christoph Waltz succeeds yet again at being one of the most wonderfully devious actors to watch on the big screen. But it's Leonardo DiCaprio who really steals the show. His charisma nearly bounces off the screen in every shot we see him in, and it's a treat to see him in a villainous role. He's on a roll this year between this and "The Great Gatsby," both of which hit theaters on the same day.
"Django Unchained" focuses on the partnership of Foxx's Django and Waltz's bounty hunter Dr. King Schultz. Schultz purchases Django with plans to free him upon catching his quarry, but Django's primary goal is rescuing his wife Broomhilda, played by Kerry Washington. Their hunt leads them to "Candyland," a plantation where slaves are forced to fight one another for sport by their owner, Calvin Candie, played by DiCaprio.
Tarantino's latest stars Foxx, Waltz, Washington and DiCaprio, RZA, Samuel L. Jackson, Walton Goggins, and some "surprise costars." It's due in theaters on Christmas Day.
What did you think of this trailer? Tell us in the comments section below or on Facebook and Twitter.