"Django Unchained" debuts new picture of Leonardo DiCaprio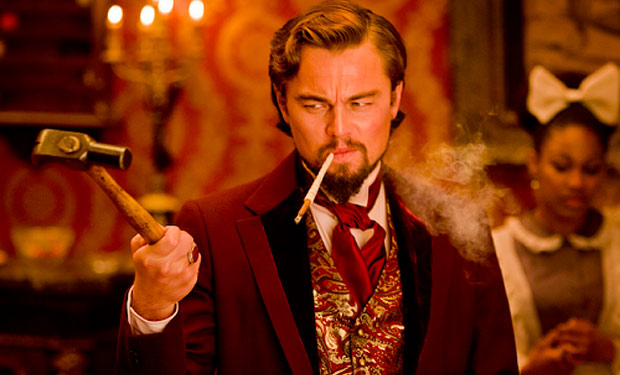 Posted by Terri Schwartz on
[Ed. note – the photo has been removed at the request of The Weinstein Company]
We still have six months to go (to the day!) until "Django Unchained" hits theaters so, to help keep us occupied in the meantime, the kind folks over at The Weinstein Company have released a brand new photo of Leonardo DiCaprio as evil plantation owner Calvin Candie.
The image comes at us courtesy of HeyUGuys, who found it circulating on Tumblr. The more we see of DiCaprio in this movie, the more we love the fact that Quentin Tarantino cast him to play the film's villain.
DiCaprio has been playing a lot of similar characters in his recent films (there are more similarities than differences between his roles in "Shutter Island" and "Inception"), so it's nice seeing him step away from that in "Django Unchained." This picture underlines his character's quirkiness, and we can't wait to see how brutal he'll likely get in the upcoming flick as well.
"Django Unchained" focuses on the partnership of Foxx's Django and Waltz's bounty hunter Dr. King Schultz. Schultz purchases Django with plans to free him upon catching his quarry, but Django's primary goal is rescuing his wife Broomhilda. Their hunt leads them to "Candyland," a plantation where slaves are forced to fight one another for sport by their owner, Calvin Candie.
Tarantino's latest stars Jamie Foxx, Leonardo DiCaprio, Christoph Waltz, Samuel L. Jackson, Kerry Washington, Don Johnson, Walton Goggins, Tom Savini and many more. It's due in theaters on Christmas Day.
What do you think of this new picture of DiCaprio? Tell us in the comments section below or on Facebook and Twitter.