LAFF: Derek Luke teases that Gabe Jones "could be a spy" in "Captain America 2"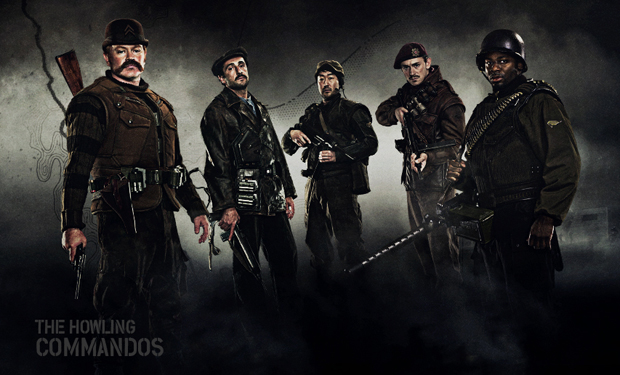 Posted by Terri Schwartz on
With "Captain America 2" making the jump to the present day, the fate of his Howling Commandos remains unknown. The squad was a major part of "Captain America: The First Avenger," but they might not fit as well in Cap's world sixty five years in the future.
That being said, Derek Luke wasn't so quick to write off his Commando, Gabe Jones, when IFC caught up with him at the Los Angeles Film Festival red carpet for "Seeking a Friend for the End of the World." In fact, he seemed to think that he would be back for a second go at the Marvel Universe.
"I don't know, but I figure if Captain can go to the future, so can I," he teased. "I'm optimistic. I've been hearing calls about it, so we'll hear what they're going to do."
Even after his time in the Howling Commandos, Jones goes on to have a big role in the Marvel comic books. We mentioned that to Luke, and he said we were thinking in the right direction.
"He has a huge role, and here's the thing is that he could be a different character, actually. He could be a spy. That's all I'm going to say," Luke teased with a smile.
Let the speculation begin.
Jones was a pretty important character in the Marvel comic books, especially when it comes to S.H.I.E.L.D. As a former underling to Nick Fury in World War II, Jones went on to virtually become the S.H.I.E.L.D. leader's second-in-command once the secret organization was formed. So assuming that happens in the Marvel movie universe as well, we can start to guess how Luke would work as a character who looks the same as Jones but is actually a spy.
It could be that "Captain America 2" will deal with the Deltite storyline from the comics, which would explain some of Luke's cryptic quotes. The sentient Life Model Decoy androids slowly infiltrated S.H.I.E.L.D. during one storyline by taking on the personas of some of its agents, eventually managing to label Fury as a traitor and expel him from the organization. Though Jones was not one of the S.H.I.E.L.D. members who was killed and replaced in the comics, that could be changed for the movie.
Of course, if Jones and Fury are so close in the Marvel cinematic universe, why wouldn't Fury have reintroduced him and Captain America to one another once the latter was discovered frozen in the Arctic in "The Avengers"? Then again, "The Avengers" had a shoddy explanation for why Thor wasn't able to go see Jane during the movie as well, so that seems like an easy plot hole to be ignored.
But this does seem to fit with what we've heard of "Captain America 2's" plot so far. The flick will pick up where "The Avengers" left off, as Steve Rogers "continues his affiliation with Nick Fury and S.H.I.E.L.D and struggles to embrace his role in the modern world." Considering the fact that the new movie will likely be S.H.I.E.L.D. heavy, the Deltite storyline doesn't seem so far off. Kevin Feige elaborated "Captain America 2's" premise in an interview last month.
"Cap, who is stuck in the modern day with no friends or family, there will be some revelations of who is still alive from his days in WWII, but S.H.I.E.L.D. and Nick Fury are kind of his confidants right now," he said. "So of all these movies, 'Captain America 2′ will be most closely associated with 'Avengers.'"
"Captain America 2" will be directed by Anthony and Joe Russo. It's due in theaters on April 4, 2014.
Would you like to see Luke return for "Captain America 2"? Who do you think he could be playing? Tell us in the comments section below or on Facebook and Twitter.