David Cross talks playing a normal character in "It's A Disaster"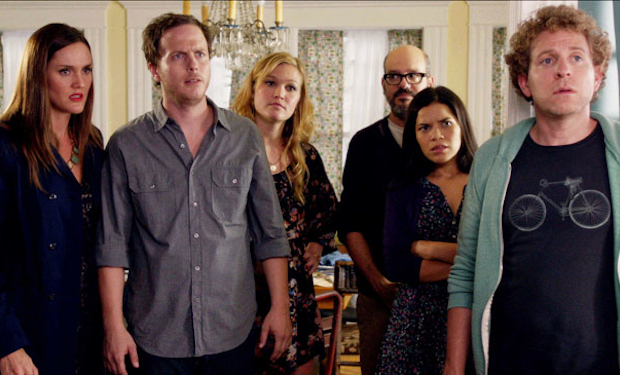 Posted by Terri Schwartz on
When fans finally get a chance to see "It's A Disaster," the apocalyptic comedy that premiered at the Los Angeles Film Festival last week, they likely won't recognize leading man David Cross. Instead of playing a crazy ridiculous character like the ones we've come to know and love in shows like "Arrested Development" and "The Increasingly Poor Decisions of Todd Margaret," he's going to be playing the normal person for once.
"David was excited because David gets to play a normal guy," producer Kevin M. Brennan said when IFC caught up with him on the opening night LAFF red carpet. "He told me, he said, 'Do you know how rare it is that I just get to play a normal human being?' And he's hilarious."
Those are pretty much the same sentiments Cross echoed when we caught up with him the following week in a phone interview. He admitted that it was a nice change to not have to play a character that's completely off the walls.
"That really was one of the things that I was attracted to," he admitted. "I mean, the script was very tight and a very cool, funny idea, but also I was excited about the idea of finally getting to play someone who's sort of a straight man in something, a little more grounded."
"It's A Disaster" tells the story of four couples who meet one Sunday for brunch only to realize that they're all stuck in one house together while the world is potentially about to end. Even with the apocalypse seemingly imminent, they spend as much time worrying about their own relationship issues as they do their quickly approaching demises.
In addition to Cross, the film stars Julia Stiles and America Ferrera. Stiles had worked with Brennan and director Todd Berger in the past on some Internet videos, and came on board. Brennan and Berger knew Ferrera through her husband, Ryan Piers, and she also was quick to agree to a part. Berger was having trouble figuring out who to cast as Glenn, Stiles's onscreen boyfriend, and it was Ferrera who suggested Cross — an actor Berger said he never would have considered as a possibility.