Call-In Commentary: Watch the "Dark Horse" trailer with writer-director Todd Solondz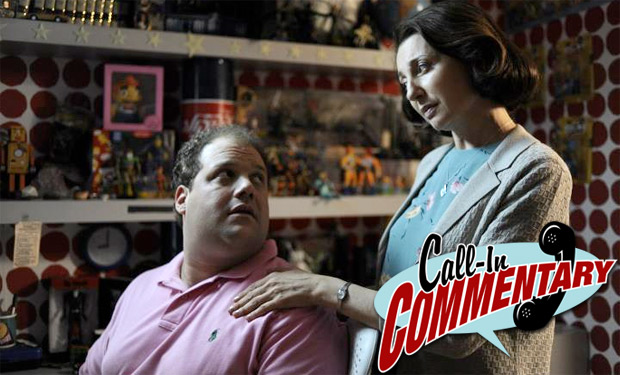 Posted by Brian Jacks on
With films like "Welcome to the Dollhouse" and "Happiness," writer/director Todd Solondz has developed a reputation for deeply-impactful stories with more than a touch of the macabre. His latest, "Dark Horse," may not be as dark as some of his previous offerings, but it's certainly no fairy tale.
"Dark Horse" follows Abe (Jordan Gelber), a thirty-something schlub who lives with his parents and collects toys. Desperate to break from his circumstances, he manages to settle into a relationship with an equally depressed woman named Miranda (Selma Blair), who agrees to marry him. As you'd expect, things take an unexpected turn from there. Christopher Walken and Mia Farrow co-star.
To delve into the picture we enlisted Solondz for our Call-In Commentary series, where filmmakers provide audio narration to their movie trailers. In the video below, hear the director walk you through the film and its many intricacies. "Dark Horse" opens in limited release Friday, June 8.
video player loading
.
.
.
MORE CALL-IN COMMENTARIES:
– Watch the "Snow White and the Huntsman" trailer with director Rupert Sanders
– Watch "The Samaritan" trailer with writer-director David Weaver
– Watch the "Bernie" trailer with writer-director Richard Linklater
– Watch "The Cabin in the Woods" trailer with star Fran Kranz
– Watch "The Moth Diaries" trailer with writer-director Mary Herron
– Watch the "Tim and Eric's Billion Dollar Movie" trailer with Tim and Eric
View more Call-In Commentaries…
Will you be checking out "Dark Horse"? Let us know in the comments below, or on Facebook or Twitter.