LAFF: Emory Cohen talks working with Bradley Cooper in "The Place Beyond The Pines"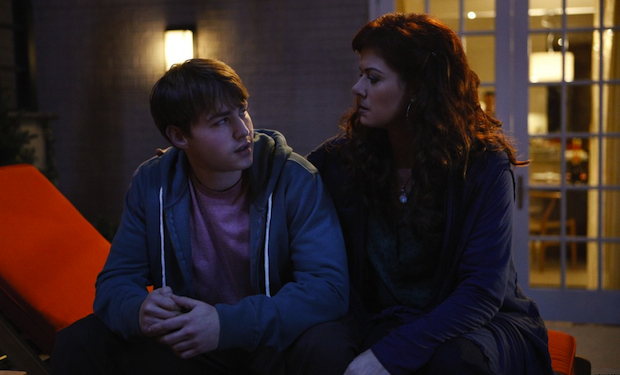 Posted by Terri Schwartz on
With last night's premiere of "To Rome With Love," the 2012 Los Angeles Film Festival is officially underway. IFC was on hand at the festivities, and we got a chance to catch up with "Smash" star Emory Cohen on the premiere red carpet. Though Cohen is at the festival this year (the 22-year-old New York's first time to a festival and to Los Angeles) to promote his upcoming indie "Four," we could resist asking him about his other big film, "The Place Beyond The Pines."
The Derek Cianfrance-directed project is already in post-production, and will likely be released in the US at some point in 2013. But we still don't know much about the flick other than the fact it follows a motorcycle stunt driver played by Ryan Gosling who considers committing a crime in order to help support his family. This puts him on a "collision course" with a cop-turned-politician played by Bradley Cooper.
Cohen plays AJ, the son of Cooper's character Avery Cross. We asked him to tell us about his character, and he explained some of AJ's motivations in the movie — which, as it turns out, are surprisingly relevant to this upcoming Father's Day weekend.
"[AJ] kind of moves to the town to be closer to his dad. It's really about fathers and sons and the disconnect sand the distance sometimes in those relationships. It's heavy stuff. It was good stuff," he said. "There were some parts of it… it was more of an extreme level, but for me, as a son, I understood some of the stuff that this guy goes through. Not the neglect, just the desire for more, which I think is a natural need of a child."
In addition to Cooper and Gosling, "The Place Beyond The Pines" has an impressive ensemble cast. Rose Byrne and Eva Mendes play the two men's wives, respectively, and Ray Liotta, Dane DeHaan and Ben Mendelsohn all also have roles in the film. Cohen spent most of his time on set filming opposite Cooper, but he still felt the pressures of working with such an established cast.
"I worked with Cooper, and it was really helpful for me because the character AJ comes to a new school and essentially wants to prove himself, and I was a new kid on the block and I came to prove myself. I'm not going to lie to you," he said with a laugh.
In his LAFF film "Four," Cohen plays a closeted homosexual named June who comes out to himself and to another man both sexually and emotionally on one Fourth of July night. The film also stars "The Wire's" Wendell Pierce. Cohen and director Joshua Sanchez have been working on the project for years, and he said he owed it to himself and to the movie to come to LAFF to represent it.
"Me and Josh became very close and I worked very hard with Josh, so there's a lot of love in this film, so it's really important for me to represent this along with Josh," he said.
Are you looking forward to seeing "The Place Beyond The Pines"? Are you intrigued by the premise of "Four"? Tell us in the comments section below or on Facebook and Twitter.