"Before Sunset" sequel to shoot this summer, says Ethan Hawke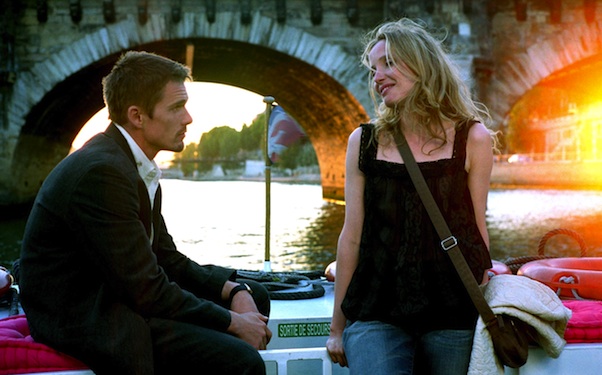 Posted by Terri Schwartz on
It seems like the third installment in Richard Linklater's "Before Sunrise"/"Before Sunset" series will be coming sooner than we expected.
Star Ethan Hawke told IndieWire that the movie will start shooting as soon as this summer. It's been eight years since we last saw him and Julie Delpy team up on the big screen in "Before Sunset," so there is the question of when this sequel will take place. Hawke said he is "sworn to secrecy" since every comment he makes will be picked over on the Internet (just like we are right now).
"We're also doing a follow-up to 'Before Sunrise' and 'Before Sunset,' so that will be fun. We're going to shoot that this summer," Hawke revealed. "I've gotten into trouble, so I'm sworn to secrecy [about where it will take place]. The biggest change between this one and the last one is the Internet. The first time we did it, we didn't have any pressure; nobody gave a shit."
When IFC caught up with director Richard Linklater recently, we asked him about the planned third film. From the way Linklater made it sound, the project is far from a done deal.
"We're calling it 'More BS,'" he joked. "Or 'Before Lunch.' Nothing's set it stone on that one yet, but it's one of the least successful films ever made that spun sequels. How about 'Before Breaking Dawn'?"
However, Hawke seems determined to get the project off the ground.
"I don't know what we're going to do but I know that the three of us have been talking a lot in the last six months," Hawke said back in November. "All three of us have been having similar feelings that we're ready to revisit those characters. There's nine years between the first two movies. If we made the film next summer, it would be nine years again, so we started thinking that would be a good thing to do. We're going to try to write it this year."
Would you want to see a "Before Breaking Dawn," or whatever this third film ends up being called? Tell us in the comments section below or on Facebook and Twitter.