"Beasts of the Southern Wild" star Quvenzhane Wallis talks burps, screams and crawfish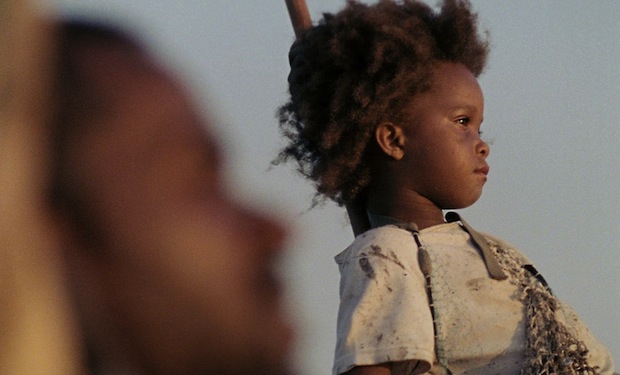 Posted by Terri Schwartz on
Quvenzhane Wallis is a tiny force to be reckoned with. In "Beasts of the Southern Wild," the nine-year-old manages to transform life-changing events into a mythological story that, to her, could affect the entire world. As director Benh Zeitlin told IFC, much of her character, Hushpuppy, is actually derivative of Wallis as a person. But when it's up to Wallis to explain the comparisons between herself and her character, she said that what you see is what you get.
"She's brave and fearless," the first-time actress told IFC at a recent press day for the movie. "She was active all the time. Since it's a movie, yes [there are similarities]. Not really but there are. She doesn't wear pants and her father is dying, and she gets to complete whatever she wants to do. She can do anything she wants. She doesn't have to ask for anything, so it's something that she does and she gets to do it by herself."
"Beasts of the Southern Wild" premiered first at Sundance, then at the Cannes Film Festival and most recently at the Los Angeles Film Festival (where it won the Audience Award). Wallis, Zeitlin and Dwight Henry, who plays Hushpuppy's father Wink in the movie, have traveled all over the country promoting this film. We spoke to Wallis towards the end of the press day, and it was clear that she was exhausted. As someone who is not trained for press, she let her disinterest with answering the same questions all day be known.
"Burp, scream and crawfish," she ticked off on her fingers in answer to what her favorite parts of the movie were. When we asked whether that was a question she's heard a lot, she further ticked, "Yes I have been asked."
That being said, the experience was positive enough that Wallis said she wants to continue with acting. She's already seen more of the world than many people have in their lifetime, though Sea World was one of her favorite parts of that along with going to Cannes and Sundance. And the filming experience in itself seems like it was a great time, with much of the movie being an on-set party.
"It was fun because we all got to have different people to play with," Wallis said of the filming experience. "It was different because, whenever you go home, it's just different and all you do is just seeing your friends and riding your bike. And then you go to the Bath Tub and all you hear is parades and drinking."
As she previously mentioned, her favorite parts of the movie were her frequent burps, ear-piercing screams and the regular meals of crawfish. Wallis said she had told Zeitlin before they started the movie that she was especially talented in the burping and screaming departments, and that's why those qualities were added to her character.
When asked what her favorite scene to film was, she answered, "When I burped. Just kidding [laughs]. When I had the crawfish, that was my favorite out of all of those things."
She added that she liked filming the parade scene with the sparklers that many can see in the trailer for the film.
"It was fun because you never expect to do all those scenes and crazy scenes like that," she said. "Whenever we were on the parade and we were shaking and screaming and water falling and people, we had to redo it and redo it, we had to go back and forth with the truck of the parade, so it was very funny."
When IFC talked to Zeitlin about the film, he gushed about Wallis's abilities. "The very first time I saw her, she was like fierce and defiant and wise beyond her years. She was five years old when she came in and she had this focus that we hadn't seen from kids twice her age. She's some sort of supernatural creature that came to us," he said.
"Beasts of the Southern Wild" hits select theaters in New York City and Los Angeles today.
Were you surprised by Wallis's powerful performance? Tell us in the comments section below or on Facebook and Twitter.