Dwight Henry explains how his Hurricane Katrina experience made him perfect for "Beasts of the Southern Wild"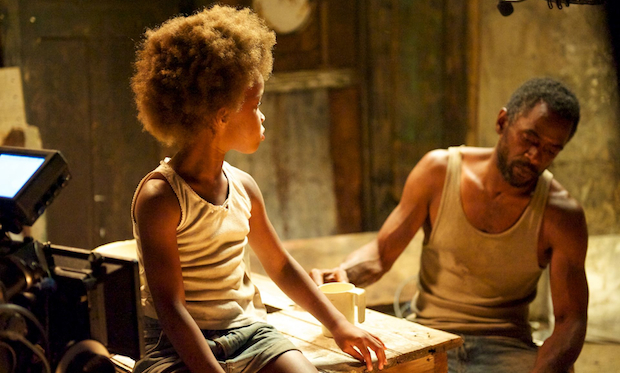 Posted by Terri Schwartz on
Dwight Henry didn't want to take a role in "Beasts of the Southern Wild." In fact, he never even auditioned for a part in the film. Instead, his bakery, Buttermilk Drop, had the lucky location of being across the street from the studio where director Benh Zeitlin was holding auditions for his upcoming indie.
But Zeitlin saw something in Henry's personality that he wanted in the character Wink (the father of the movie's leading lady, Hushpuppy). Henry had a daughter Hushpuppy's age and, like his character, stayed behind to protect his home when a terrible storm had hit. In real life, that storm was Hurricane Katrina, while in the movie, it was a quick albeit terrifying thunderstorm.
"They believed in me, you know what I mean? And they seen some things in me that I didn't see in myself," he told IFC during a recent press day for the film, adding that he turned Zeitlin down three times before ultimately agreeing to take the part. "I wouldn't sacrifice my business for no acting career because my business is something, ultimately, that I know I'm going to pass down to my kids, and that's most important to me than anything else in the world. I can't pass an acting career down to my children."
He continued, "That was one of the things that drawed them to me. They could have got outside professional actors, which they tried to get to do this part, but they wouldn't have brought the passion to the movie of someone trying to go through this in real life."
Even if he didn't see what Zeitlin saw in him then, he does now. "Beasts of the Southern Wild" won the Grand Jury Prize at Sundance, the Caméra D'Or at the Cannes Film Festival and most recently the Audience Award at the Los Angeles Film Festival. It's been a whirlwind experience for Henry and his nine-year-old costar, Quvenzhane Wallis.
Neither have them had any previous acting experience, but Zeitlin made sure he worked with his actors in a way that made them feel comfortable. With Henry, that meant Zeitlin met with him at night to accommodate his baking schedule.
"Me and Benh, we would go over the script. I would read the script and we would go over it, then he would take the script and throw it away. Just like that, toss it on the side, and he would say, Dwight, tell me how you would say this in your own words," Henry explained. "Then two days later he'd come back with the script, everything that I said in my own ways and how I felt about certain situations would be in that script because he wanted it to be in my own words, he wanted to feel the passion that I had of going through these things in real life."
And Henry has experienced these things in real life. He reminisced about his mother and father having to put him on the roof of their house when he was two years old because Hurricane Betsy had flooded the lower Ninth Ward. The storms that wrack New Orleans have been a part of his life literally since birth, and he knew that he was never going to let them win.
"We show a strength and a resilience, just like when a hurricane comes sometimes, we party before the hurricane so when the hurricane comes, we gonna tell that hurricane we're not going to let you disrupt our life. We're going to have a hurricane party," he said, acknowledging that his words describe a scene in "Beasts." "In the sense of our imagination, we don't want to let this hurricane think he's got us whipped and we gonna run like he want us to do, so we stay back."
Even during filming, there were constant problems that threatened to overcome Henry and the rest of the "Beasts" production. The BP oil spill happened at the same time they were supposed to start shooting, but Henry, Zeitlin and the rest of the cast and crew endured, found new locations to film at and managed to make a phenomenal film.
The most terrifying storm that Henry had to stand up to was Hurricane Katrina. It was that experience that made him the perfect pick for the role of Wink.
"I was in neck-high water because my business, I refused to leave the business that I worked so hard to open up and you think I'm going to just let vandals come vandalize it, burn it down? I'm not walking away from what I love just because the government telling me to walk away," Henry said. "That's the same strength they needed in this character, because Wink was the type of person when a problem occur, everybody looking to Wink, everybody looking up to Wink to solve the problem, blow up the levy or whatever, so they see a strength, a resilience in me."
That's a resilience that has stayed with him, and it's clear that he loves his city no matter how many times the weather has tried to make him leave it. In fact, he's opening up a new bakery in New Orleans' business district called Wink's Bakery and Bistro after his "Beasts" character. "And I'mma serve hush puppies," he said with a laugh.
"I've been to France, and I'm traveling all over the United States doing press, but I'm still keeping my feet grounded," he promised. "I'm not the Hollywood type. I'm not going to pack up my bags and let me move to Hollywood and stuff like that. I'm stuck in Louisiana with the Buttermilk Drop and Hollywood'll have to come to me before I go to Hollywood. … It's a certain magnetism that New Orleans, where we live, has. You can't leave it."
"Beasts of the Southern Wild" is open in select theaters in New York City and Los Angeles.
Are you intrigued by Henry's journey to the big screen? Tell us in the comments section below or on Facebook and Twitter.