"Beasts of the Southern Wild" director Benh Zeitlin on the score, his young star and creating the Bath Tub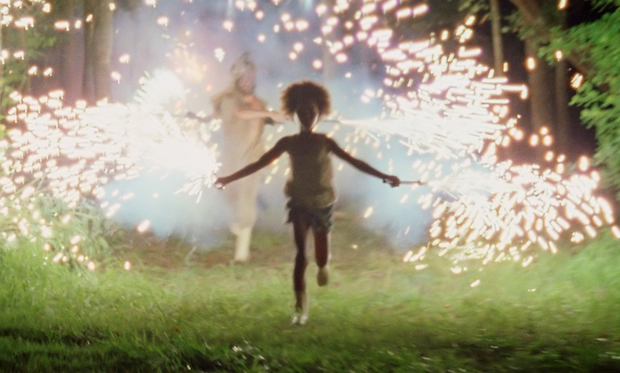 Posted by Terri Schwartz on
IFC: Was it a fun challenge for you to get to work with people like this who aren't technically actors?
BZ: Yeah, because you get so much out of them. We really cast people just as much for who they are as their skill. A lot of that stuff you can learn, and we take a long time to rehearse and learn and stuff, but you get an enormous amount out of collaborating on characters with people that have this relationship to them. A lot of stuff in the film is written by Dwight, who plays Wink. I would interview them and sort of talk to them about the issues in the film or a scene in the film and it would bring all this imagination and also experience to it that is outside of my head and so the characters would become a collaboration and become more real for having these amazing people who infuse themselves in the character.
IFC: So it sounds like the characters changed a lot from what you originally conceived.
BZ: Oh yeah, completely. I mean, we cast and write at the same time, so Hush Puppy could have been any kind of person. We were just looking for someone incredible, as long as they were a kid. Hushpuppy in the play was a boy. It could have been anything. We really were just looking for someone who could bring this sort of wisdom and fierceness, and one she entered the picture you could adapt your ideas to what you found. We tried to do that not just with the actors but with the locations and every element of the film.
IFC: Another thing that really struck me about the movie is that it has this epic feel even though it's a low-budget movie [it was made on $1.3 million]. How did you find that balance?
BZ: We built everything out of garbage, basically. [laughs] But that reflects the story. We tried to make our process reflect the characters in the film. There's no money in the Bath Tub. It doesn't exist. There's no technology in the Bath Tub. You try to make the production reflect that, and so houses were built out of the junk that we found in the woods around the location and we would be very kind of disciplined about every piece of metal has to be a piece that was found in this area, and it's got to be tied together with a string that we find in the woods, and so a lot of it is just ingenuity and elbow grease, I don't know, and just kind of being fearless about where we shoot and trying to get our cameras into locations that are [tough]. The locations are part of what makes it feel huge, and they are these epic places. They're just really hard to get to so you don't see them on film that often.
IFC: The score and all the sound effects in this film were so precise and fantastic, they just blew me away. Did you always know going into the movie that you wanted this epic, grand score?
BZ: I mean, yeah, that's all part of the same set of thoughts to me. The film and the production and the music. Where I found the main theme was really realizing that the film isn't objectively epic. It's not like there are epic things happening all the time. Actually, a lot of times the most epic moment is just a little girl running around in the woods with sparklers.
But it's really that for her, that's an epic moment, and for her, running with sparklers in her hands is this moment of cultural definition. She's at the height of her power and her community is at the height of its unity and so we needed to find a score that felt patriotic and like an 'Auld Lang Syne' and 'America The Beautiful,' something like that, just one that everyone would know this song in the Bath Tub because, once the Bath Tub goes away, you need to sort of hearken back the emotion of what it was like to be there, and so trying to create a traditional anthem was how we put the viewer in her head.
It's always scored from the way that she's thinking about her own story. And the collaboration is just me and my best friend Dan Romer. We each write about half the tunes, and he writes half the tunes, and he sort of orchestrates them, and I sort of tailor the kind of theory behind them to the movie theory, musical direction or whatever, and that's sort of how it happens in this basement in Brooklyn.
The "Beasts of the Southern Wild" soundtrack hit iTunes today. The film is due in select theaters in New York and Los Angeles on Wednesday, June 27.
Are you anticipating this film? Tell us in the comments section below or on Facebook and Twitter.