"Beasts of the Southern Wild" director Benh Zeitlin on the score, his young star and creating the Bath Tub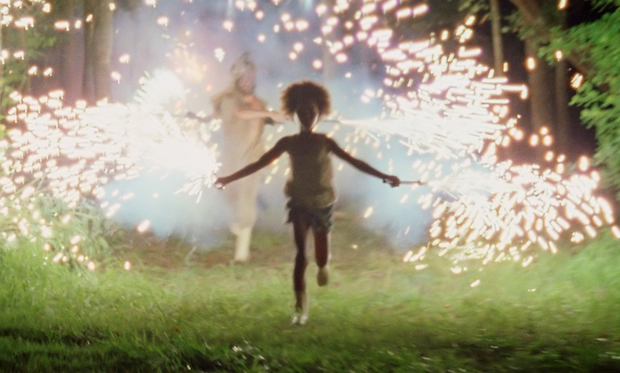 Posted by Terri Schwartz on
"Beasts of the Southern Wild" is already this year's little indie that could. It won the Grand Jury Prize at Sundance, the Caméra D'Or at the Cannes Film Festival and most recently the Audience Award at the Los Angeles Film Festival. And for good reason. The movie is a spectacular hat tip to the resilience of those who live in Louisiana as well as being a grander folk tale told through the eyes of a six-year-old.
IFC got the chance to catch up with director Benh Zeitlin when he was in Los Angeles to promote the movie before its premiere at the LA Film Festival. We chatted about everything from the movie's fantastic young lead, Quvenzhane Wallis, to the impressive score he and his best friend Dan Romer wrote in their Brooklyn basement, and everything in between.
IFC: How did you construct a fantasy location that felt as real as the Bath Tub?
BEN ZEITLIN: It's all built out of real things. It's not like an imagined place. It's a series of things that don't necessarily co-exist at once, but which all exist within the region. I sort of think of it as the island of Louisiana that encompasses New Orleans culture, Creole culture, Cajun culture, and sort of combines a rural mentality and a city mentality in a way that doesn't exist but all those places have this sort of commonality in their fearlessness, and so certain things about it just made me feel like they could blend.
But there are places, at least 40 years ago. The island where we shot, Isle de Jean Charles, was this completely self-sufficient [community]. Fishing, farming, raising livestock, totally French-speaking, own educational system, just totally off the grid, and it's shot there, and I think the difference is just that that was a Native American population with a very specific culture that this film isn't about, it's about a certain kind of culture, but certainly it's inspired by those people and people all facing kind of the extinction of their land and their place.
The reason it feels real is because it's all built with real stuff. We don't paint things to look like bricks. We put the bricks there.
IFC: And yet at the same time it is this fable, in a way. What about you as a filmmaker made you interested in this blend of fantasy and firmly rooted reality?
BZ: Well I started in animation, so I think that's part of it. I think I've always been interested in telling sort of these like epic folk tales or myths, so that's probably the way my head works a bit. My parents are folklorists, they probably filled my head with a bunch of nonsense. I'm interested in mythology and big stories that take on huge questions that can kind of speak universally. I don't want things to be rooted in kind of the specifics of politics or the specifics of anything. I want to sort of talk broadly and tell kind of Bible stories, or something like that.
The reality and fantasy in this movie, to me, is actually all really just about it's a film from the reality of a six-year-old. It's from a time when you don't really parse out what's in your imagination and what's happening, so I just wanted to make a film that respected that. I love kids and I think that they're smarter than adults 80 or 90 percent of the time, so I wanted to make a film that respected that reality and that perspective and didn't question, oh, she's just imagining that or that's not real. Just give her the movie.
IFC: Speaking of which, Quvenzhane is a little powerhouse in this movie and it's the first time that she's acted, so how did you find her and how were you able to draw that performance out of her?
BZ: We just looked real hard. We looked at 4000 kids across eight parishes, tried to see every kid in Louisiana basically, but it's in her. The very first time I saw her, she was like fierce and defiant and wise beyond her years. She was five years old when she came in and she had this focus that we hadn't seen from kids twice her age. She's some sort of supernatural creature that came to us. The performance is like a real collaboration. You don't have to sort of talk down to her like a kid or trick her into feeling things. She can act and we have a sort of like brother/sister relationship which it's unclear who's the older brother and who's the younger one, but you can take her aside.
You always have to play on set, you've got to sort of defy the stress of a movie set and make it fun but you can, when things are going wrong, take her aside and say, here's what your character's thinking, here's where what they're thinking changes, when you look over here, I want you to squint your eyes because and feel like the sun's in them — she can do all that stuff. She's incredible. No one in the film had ever acted before at all, and she, yeah, I don't know, she's born to do this.