David Cross promises "meta, meta layers of hilarity" in new "Arrested Development"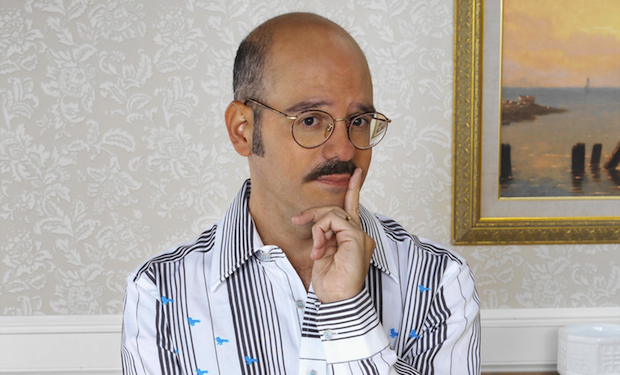 Posted by Terri Schwartz on
Sure, "The Dark Knight Rises" is going to be awesome. And "Django Unchained" looks pretty freaking cool. But the upcoming project we are hands down absolutely most excited for is the new season of "Arrested Development."
Fortunately, we aren't alone in that. IFC recently had a chance to chat with David Cross, the world's favorite analrapist, while he was promoting his movie "It's A Disaster" during the Los Angeles Film Festival. Despite the fact he plays a normal character in that movie, he's ready to blue himself all over again when he reprises his role as Tobias Funke.
"It's a character that I love and a great group of people that I look forward to working with again, and it's a Mitch Hurwitz script so it's going to be fucking meta, meta layers of hilarity," he said.
Since we have visual proof that "Arrested Development" is being written, we know that there are actual, real, not speculative ideas for the upcoming season and movie floating around, though we aren't privy to them yet. Apparently Cross knows some of them, though series creator Mitch Hurwitz would probably hunt him down if he told any of the ideas to us.
"Mitch and I talked about it the last time we were together, which was in Vegas for this Netflix thing, and told me some of the ideas," Cross teased. "I can't say anything for obvious reasons and I won't say anything but they're all great. I'm really, really chomping at the bit to do this stuff."
Even though he can't tell us what actually will happen in the new season, we did manage to get Cross to talk about which actors he'd like to work with more in the new episodes. Tobias storylines typically circle around his wife Lindsay, daughter Maeby and brother-in-law Michael, which means there are plenty of untapped Bluth family members left for him to harass work with.
"I would think that for comedic purposes, I would like to see Tobias and Lucille," Cross said. "I think just writing-wise, comedic-wise, I think Tobias and Lucille would be funny."
He continued, "I'd also like to see Tobias and George Sr. because I thought there was a bit of an untapped idea there when we were in prison because Tobias so clearly needs love and attention and a father figure and validation and George Sr. clearly, for understandable reasons, does not like Tobias at all, so I thought those two together would be kind of fun too."
And now it's that fun time where we get to move on to speculation. Everyone had their own favorite secondary character they wanted to see again when we pulled together our list of faces we'd like to see return for "Arrested Development's" fourth season, and even Judy Greer teased who she'd want to see again. We asked Cross the same question, and weren't too surprised to find out he wanted to see Kitty Sanchez again as badly as we do.
"I can say without hesitation that it would be Kitty, not speaking in how it will work in the show, but I'm just such a huge fan of Judy's and I love her and I love working with her and she's just such a fucking funny, brilliant, talented, nice lady," he said. "I really, really enjoy hanging out with her so, for selfish reasons, I would say Kitty."
But that's not the only secondary character he'd want Hurwitz and the rest of the "Arrested Development" team to hunt down and bring back for the next season. "I would also say the horse I got to ride in the episode with Martin Short. I got to ride a horse, so I'd like to bring the horse back," Cross said. Can we start that Internet campaign right now, please?
The last we heard, the new 10-episode-long season of "Arrested Development" is going start shooting over the summer and be released all at once later this year. That hopefully will lead up to a movie hitting theaters at some point in 2013, though we're beginning to be doubtful that that will actually happen.
Are you as excited for new "Arrested Development" as we are? Tell us in the comments section below or on Facebook and Twitter.