Exclusive Premiere: Anna Ternheim "The Fingerpicking Party"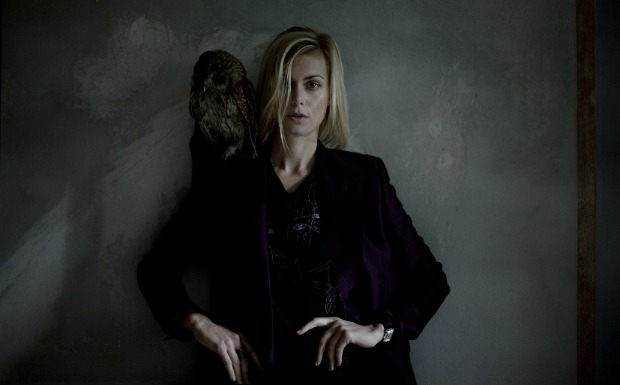 Posted by Melissa Locker on
When Swedish singer Anna Ternheim finished her album "The Night Visitor" she wanted to celebrate. Not just because she had wrapped her latest collection of winsome folk-inflected songs, but because she had finally sated a hunger that had been lingering since she completed her last album.
Despite the bevy of Swedish Grammys to call her own, regardless of having toured with El Perro del Mar and Lykke Li, Ternheim wasn't sure what she wanted to do next musically. "I usually hunger for new music after finishing a record or a tour. For leaving my bubble and finding new perspectives," Ternheim said. She turned to musicians like David S. Ware, an improv saxophone player, Tinariwen, and Scottish folk singer Bert Jansch for inspiration. But it wasn't until she got a new guitar and teamed up with her friend Matt Sweeney that she started to figure out what to do next.
Anna and Matt headed to Nashville and the recording studio of Dave Ferguson, Johnny Cash's long time engineer. While most artists head to Nashville for that authentic made-in-America sound, Anna had never really heard of the Grand Ole Opry, but was keen on the notion of trying something, anything different. In February, they started recording Anna Ternheim's fourth album, "The Night Visitor".
The album's stripped down sound spotlights Ternheim's talent as both a vocalist and songwriter. "The Night Visitor" is sparse. Gone are the lush arrangements heard on Ternheim's previous record replaced by austere orchestrations of voice, acoustic guitar and some subtle strings. Album highlights include "Walking Aimlessly," a breezy folk inspired number, which pairs well with backing vocals provided by Will Oldham a.ka. Bonnie Prince Billie. Oldham's distinctive tones mesh well with Ternheim's plaintive voice to create one of the album's truly stand-out tracks.
When they finished the album, Ternheim and crew headed to producer Dave Ferguson's house right outside of Nashville to kick back. As the cicadas were coming out of their 13 year cycle, the album's creators got together to celebrate its completion and play some songs from "The Night Visitor" as the cameras rolled.
Here is "The Fingerpicking Party," photographed by John Boysen and Alexis Zabe and directed by Björn Fävremark:
video player loading
.
.
.