Adapt This: "The Expendable One" by Jason Burns and Bryan Baugh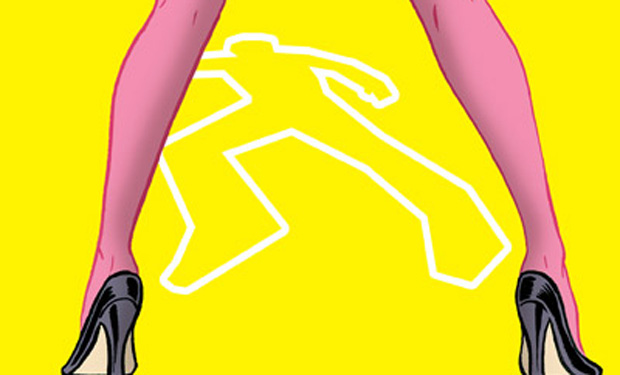 Posted by Rick Marshall on
With Hollywood turning more of its attention to the world of graphic novels for inspiration, I'll cast the spotlight on a new comic book each week that has the potential to pack a theater or keep you glued to your television screens. At the end of some "Adapt This" columns, you'll also find thoughts from various comic creators and other industry experts about the books they'd like to see make the jump from page to screen.
---
This Week's Book: The Expendable One by Jason Burns & Bryan Baugh (Viper Comics)
The Premise: Twigs Dupree is just another average guy with a below-average lifestyle, but all that changes when accidentally becomes a test subject for a chemical that makes him immortal. After discovering that he's unable to die no matter how hard he tries, he decides to fight crime with the help of his amateur scientist pal and a police radio scanner. His new, weird life takes an even weirder turn when he gets caught up in the search for a killer who might actually be a werewolf.
The Pitch: A potent mix of gory horror and clever humor, The Expendable One is the sort of comic that echoes the feel of such films as the "Evil Dead" movies and the recent "Tucker & Dale vs. Evil," which manage to be both scary and funny. The story also shares a lot of similarities with the tone of early Dylan Dog comics (and to a lesser extent, the disappointing "Dylan Dog" movie), in that it doesn't shy away from presenting gory imagery one moment and sex appeal the next.
While the comic itself is a fairly under-the-radar project, Burns has created a nice little introduction for his hero that serves as both his first big adventure and origin story. The cast of characters in The Expendable One is relatively small, and the comic is short enough to give a screenwriter room to expand and tweak certain elements on its way from page to screen.
Any adaptation of the book also benefits from the fact that the characters of Twigs and his wannabe-scientist pal Jerry are so loosely defined in the original 2006 series that the net can be cast far and wide for potential actors. Twigs need only be a somewhat goofy everyman with a (relatively) noble heart, while Jerry is the stereotypical science nerd, complete with bad hygiene, a big brain, and a complete lack of social skills. The only other character necessary to cast would be the mysterious Agent Armstrong, a sexy investigator tasked with recruiting Twigs for a special mission.
While the casting shouldn't be too difficult, the real trick in bringing The Expendable One to the screen is finding a filmmaker who can walk the line between slapstick, occasionally gross-out humor, and genuine, nightmare-inducing horror. Twigs' secret power isn't a pretty thing, and the right director will have to find a way to inject humor into horror, and horror into the story's humor. Pairing up the right filmmaker with an actor who can be funny while his character's brains are spilling out of his head certainly won't be easy, but it will be worth it in the end, as a film based on The Expendable One has a lot of potential to give audiences something that should feel very, very different from anything that's come out of Hollywood lately.
The Closing Argument: It's rare to find a film that achieves the right balance of humor and horror. Certainly, movies like "Shaun of the Dead" and the aforementioned "Evil Dead" films have had success in that world, but for every good blend of funny and scary, there are hundreds of movies that miss the mark entirely. The Expendable One offers a great foundation for a quirky, unique spin on the horror-comedy genre, and ample opportunity for a director and his/her cast to have some fun while making the audience squeal.
A little bit gorier and darker than some of the more recent examples of that genre mash-up, The Expendable One still manages to have a sharp sense of humor that should serve it well on the screen. Here's hoping this 2006 series can find itself resurrected for some live-action scares (and laughs), because if nothing else, Hollywood could use a few more heroes like Twigs Dupree.
---
Would "The Expendable One" make a good movie? Chime in below or on Facebook or Twitter.