LAFF: Adam Brody on preparing for his porn star role in "Lovelace"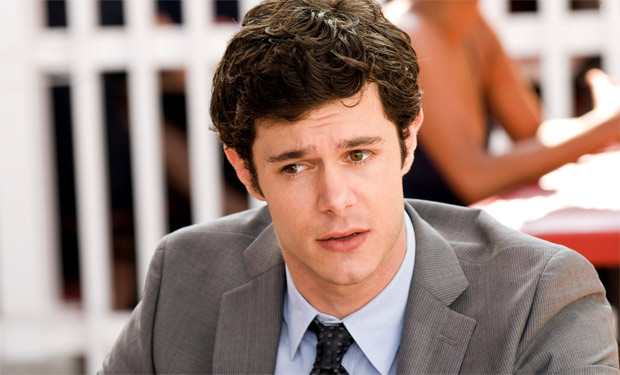 Posted by Terri Schwartz on
Ever since he broke onto the scene in 2003's "The OC," Adam Brody has been shoe-horned into fast-talking funny side roles in movies that need some comedic relief. Fans can see an example of that in "Seeking a Friend for the End of the World," where Brody plays Keira Knightley's deadbeat boyfriend. But Brody is diving into a whole new realm of moviemaking thanks to his role in the upcoming Linda Lovelace biopic, "Lovelace."
Brody will be playing Lovelace's "Deepthroat" porn co-star Harry Reems in the upcoming flick. And while he won't necessarily be getting nude, Brody did previously promise IFC that there will be some simulated fellatio. So we couldn't resist asking Brody on the "Seeking a Friend" Los Angeles Film Festival red carpet if "Lovelace" is going to end up being as sordid a movie as the story is in real life.
"It is, it is," he said. "My part is kind of the more comedic part. We're reenacting the porn, which is very goofy."
Even though "Lovelace" is technically a drama, Brody was quick to joke about the fact that he's gone from playing nerdy heartthrob Seth Cohen to one of the most well-known porn stars in the '70s. "[I've researched] a lot, and I'm still, retroactively, I'm trying to learn stuff and yeah. So the research hasn't stopped," he joked drily. "Yeah, I don't even remember what I was saying. Porn."
On the surface, it might seem like "Lovelace and "Seeking a Friend" are polar opposite films. One tells the behind-the-scenes story of the creation of an infamous porno and the woman who starred in it, while the other offers a light-hearted look at what people might do if they found out the world would end in a couple of weeks. Yet Brody doesn't think that they're that different at their cores.
"They're polar, but they both have big casts. They both have drama and comedy," he said. "I mean, they're definitely different, but I wouldn't even consider them complete opposites. But, that said, I don't like one specific kind of movie. I really am a fan of all genres, and they're both nice parts in — to me — very interesting movies and truly movies that are dramatic and funny. This movie ['Seeking a Friend'] might be funnier and then dramatic, that movie might be dramatic and surprisingly funny."
"Seeking a Friend at the End of the World" comes out on June 22, while "Lovelace" hits theaters later this year.
Are you looking forward to Brody's portrayal of Harry Reems? Tell us in the comments section below or on Facebook and Twitter.