A brief chat with Bunk host Kurt Braunohler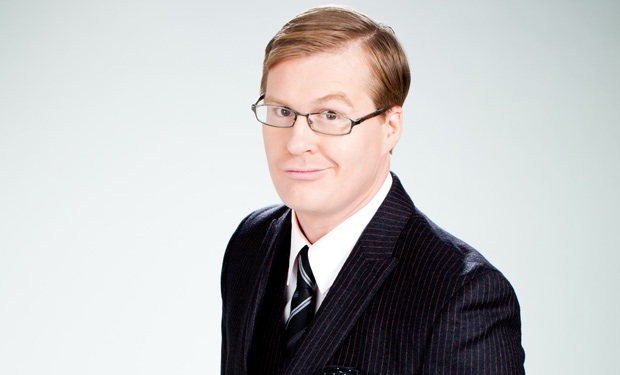 Posted by Melissa Locker on
Even before Kurt Braunohler took up hosting duties for our new comedy game show Bunk, he was a busy man. On top of his acting and voice-over work in shows like Bob's Burgers, Delocated, Jon Benjamin Has a Van and Human Giant, he and Kristen Schaal (you may recognize her from The Daily Show) host a weekly variety show in Brooklyn called Hot Tub. (Every Monday at Littlefield!) He writes a very helpful advice column for Vice. When he's not acting or voice-overing or doing stand up or sketch comedy shows, he fills his time talking about the perils of parakeets and the problems of keeping badgers as pets on his web series Kurt Braunohler's World Wild of Animals. He's also been known to wax philosophic about U.S. landmarks. So yeah, he's busy. Which is why we were so flattered that he took the time to chat with us yesterday. We talked to Kurt about Bunk, animals, and, naturally, the origin myth of the Liberty Bell:
Hi Kurt, how are you?
I'm fine, thanks. Surviving all the interviews.
How many interviews have you done today?
You are number five.
Oh good, lucky number five.
That's not a thing, Melissa. It is lucky number three or seven. Lucky number five is not a thing.
Well, that's it. I'm not going easy on you now.
Good. I wanted the gloves to come off.
Done. People keep describing Bunk as "you have to expect the unexpected," so when people say that, what should you expect?
You should expect awesomely hilarious comedians being funny off the cuff in weird situations that you would not expect them to be in. They may be your favorite comedians in the world, but you haven't seen them in these situations before. They don't even know what will happen next. It's all off the cuff.
Some of the categories on Bunk are pretty wacky. For example, "who has the softest lips" is kind of out there. Was this all just a ruse to feel all of your friends' lips?
I'm obsessed with lips. For the past 14 years I've been building a comedy career just as a way to feel lips. I've been thinking about it as a means to an end. I've been pretty successful, too. I have felt three peoples' lips so far.
You made a study of animals in your series World Wild of Animals, so what's your favorite animal?
Any type of bird. I would love to be more specific, but really, any type of bird is the funniest animal. They have to move awkwardly when walking. They have beady eyes; they are very suspicious. They can't do anything right. They have no hands, which is inherently funny.
I never thought of a bald eagle as hilarious before.
Have you ever seen a bald eagle fart?
No.
That's very funny.
I guess I will Google that now.
Or have you seen baby eagles getting kicked out of nest? They can't really fly yet and it is hilarious.
Baby bald eagles getting kicked out of the nest is your idea of funny?
It is hands down hilarious.
What's your favorite U.S. monument?
The one that lets you down the most. That would be the Liberty Bell. It is the most boring thing in the world. Every child who grows up in the tri-state area has to go stand in line for two hours and then you get to see a bell that is broken. It doesn't even work.
Do you know any facts about the Liberty Bell other than that it is the most boring thing in the world?
Yes. It was made by a baker who was trying to make world's biggest croissant, but made a bell instead. He wasn't a very good baker. He ate a lot of metal. He didn't live very long.
Now that you and Kristen Schaal are both on TV are you still going to do Hot Tub?
Of course. We are going to do Hot Tub until we die. Every Monday. Then we'll come back and do it as zombies. Hot Tub is very important. What we do is based on our live skills. It's stand up and sketch and improv everything we do in Hot Tub is important to our jobs. And, every Monday I'm excited to do it.
How did you come up with Bunk? It came from the New York Television Festival right?
Yeah, IFC picked it up from there. Eric Bryant and Ethan Berlin, the creators of Bunk, asked me to come get involved in very early process when they wanted to make a game show. Ethan and I were writing for a game show on another network and he was frustrated that our funniest ideas never made it to air. So the idea was to take all those funny moments and create a whole new show. Ethan and Eric pooled their own money for the pilot and then we got it into the festival. IFC saw it there. We shot another pilot with them and then we shot the whole series. We were the first series to come from the New York Television Festival.
You must be pretty proud of that.
Yeah. It feels like we're a bunch of scrappy kids who got together to make a TV show and then actually did it.
Have you received letters from PETA about your puppy shaming ways?
No, but I welcome them. I would be so excited. I would explode with happiness.
Like they were a new pen pal?
Yes. I would engage with them over and over again. And I would defend every single thing said about those puppies.
Do you secretly wish Reggie Watts was Bunk's one-man house band?
No way! No. I love Reggie to death but Comedy Bang! Bang! without Reggie? That's like 50% of the fun. Whereas I'm 100% of the fun.
If you could have any three contestants (living or dead) who would they be?
Three fake ones would be Bill Murray as a zombie, a talking walrus, and a sentient CinnaBon, who just smells so good the whole time. She smells so good that it's a real distraction. That's the trick up her sleeve.
Three real ones would be a young Chevy Chase before he got hooked on back pain pills, Goldie Hawn from the 80s, and Dom DeLuise. OH MY GOD DREAM TEAM.
Based on your answers it seems you think comedy was best in the 80s?
No, I just get to choose whoever I want. I just didn't get to hang out with any of those people and I want to.
Maybe you could have old Chevy Chase and Goldie Hawn come on the show. I think Dom Deluise is dead though.
Dom Deluise is dead, but we could have Paul Prud'homme who looks like him.
We should have managements look into that.
We will.
You can watch a full episode of Bunk right now.
Want the latest news from IFC? Like us on Facebook and follow us on @IFCtv. You can also like Bunk and Comedy Bang! Bang!.
Bunk premieres on IFC on Friday June 8th at 10:30 p.m. ET