10 reasons to love Paul Rudd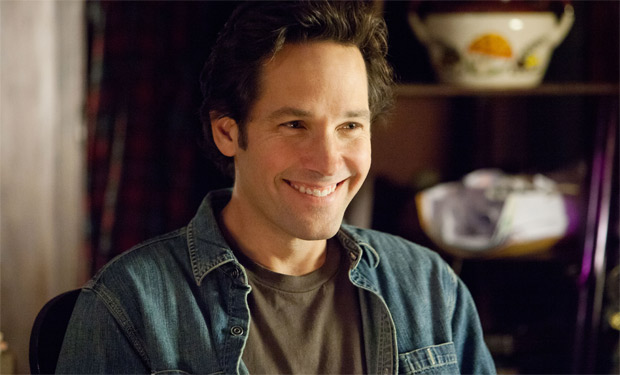 Posted by IFC on
On the surface, Paul Rudd is not fair. A man should not be allowed to be that handsome and that funny at the same time – it ruins the grading curve for the rest of us. One or the other, Rudd, pick a side, we're at war. Wait, that's not my line. Anyway, dudes should be seething with jealousy about Rudd's success, but it's really hard to do that. The man's so damn lovable. Why is that, exactly? Well, let's run down ten reasons why Rudd is comedy gold.
---
1. "Wanderlust" (2012)
More specifically, Paul Rudd talking to himself in the mirror and trying to psych himself up to engage in some wife-approved infidelity when he's quietly freaking out about his entire life being swallowed up by a hippie commune. He's good-looking enough to be an acceptable leading man for Jennifer Aniston (he's done it twice now – both times playing a guy named George, although he was a gay love interest in The Object of My Affection), but he's goofy enough to make a great everyman, too. Plus, there's the fact that half the funny bits in this red-band trailer for the movie aren't in the theatrical release – but director David Wain has promised there's a director's cut that's wildly different and likely ten times funnier. Which means Rudd's mirror conversation is probably crazier.
---
2. "Wet Hot American Summer" (2001)
Rudd is so likable, we even like him as a douchebag. In Wain's ridiculously brilliant satire of summer camp and all '80s movies about summer camp, Rudd plays Andy, an absolutely obnoxious, self-centered and ruthless jerkwad lifeguard who cheats on his girlfriend and whose cooler-than-thou attitude is hilarious in its stupidity. Not to mention all the kids who apparently drown on his watch. Few movies allow themselves to be this mean to children, but Rudd's game for it, and everyone needs to see this movie.
---
3. "Anchorman" (2004)
"They call me the Bri-man. I'm the stylish one of the group. I know what you're asking yourself, and the answer is yes, I have a nickname for my penis. It's called The Octagon, but I also nicknamed my testes. My left one is James Westphal, and my right one is Dr. Kenneth Noisewater. You ladies play your cards right, you just might get to meet the whole gang." – Brian Fantana, Field Reporter for the Channel 4 News Team. Of course, 60% of the time, it works every time, but 40% of the time, you smell like Bigfoot's dick.
---
4. "The 40-Year-Old Virgin" (2005)
Rudd's just playing your average joe in Judd Apatow's breakthrough comedy hit with all the 'you know how I know you're gay' malarkey, but it's the undercurrent of deep-rooted psychoses that splashes all over him when he meets Mindy Kaling, the ex-girlfriend he's been pseudo-stalking, at the speed-dating event and his heartbroken obsession swallows him up that makes us love how nuts this guy is. He's just this dude you know who gets way too into the girls he dates, and you've got to teach him how to chill. He's pretty, but he ain't perfect. But he knows you're gay.
---
5. "The Ten" (2007)
More David Wain action, this one a compilation of short stories based on each of the Ten Commandments, with Rudd serving initially as the host and narrator for the interstitials, before we suddenly lose all pretense of that and just watch his life fall apart as he's torn between his wife Famke Janssen and the allure of the young nubile Jessica Alba. A brilliant and crazy comedy that makes us realize we love Paul Rudd even when he's being an adulterer. That's charm writ large.