Tim Grierson on Will Smith, the Last Movie Star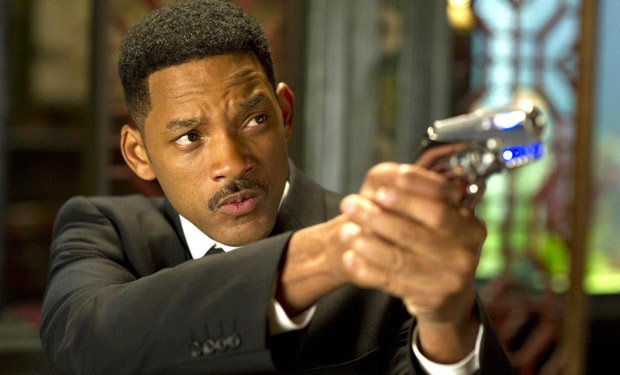 Posted by Tim Grierson on
In film, there are very few sure things. But for a good long time, Will Smith was one of them. Over the span of 12 years, Smith had 12 movies that made over $100 million, and several of them — "Independence Day," "Men in Black," "I Am Legend," and "Hancock" — grossed more than $200 million. In fact, other than 1999's "Wild Wild West," it would be hard to say that any of his hits were commercial underperformers. His home runs didn't barely clearly the fence; when he set his mind to it, his shots would leave the stadium, landing somewhere in the parking lot.
He wasn't just a consistent box office success, though. I'd argue that from 1996 to 2008, no star of his magnitude was as dependably exciting an onscreen presence. It's not that he never made a bad film — "Hitch" and the "Bad Boy" movies aren't exactly world-class cinema — but even his weakest offerings were boosted by his endless charisma and unflagging belief that being a movie star is both a genuine thrill and a responsibility worth taking seriously. Whether it was his cocksure strut in "Independence Day," his effortless comic riffing in "Men in Black," or his focused intensity in "I Am Legend," Smith never seemed to be phoning it in. Quite the contrary, he was alive and energized by the challenge of each new project. And let's not ignore his more serious roles, in films like "Ali" and "The Pursuit of Happyness," where he proved up to the task of delivering layered, full-bodied performances without much difficulty. (As opposed to his pal Tom Cruise, Smith could go from blockbuster to artful drama without making too much of how strenuous it was for him. Where Cruise wants to be sure you see every ounce of his exertion, Smith simply glides.)
Smith's run was remarkable, not unlike watching Michael Jordan in his prime winning championship after championship. And like with Jordan, I would try to savor it as much as I could, knowing that, someday, it had to end.
Amazingly, that run has been over for four years now. If 2008 contained one of his great commercial triumphs, "Hancock," it also concluded with one of his rare box office misfires, the drama "Seven Pounds." In retrospect, the film's $70 million gross was hardly disastrous — it's not like they were making "I, Robot 2" — but its self-serious tone and what's-the-big-twist-going-to-be? storyline inspired a deadly backlash from critics who found "Seven Pounds" unforgivably manipulative and phony.
That was the last time we've seen Smith on screen, and I have to say we've all been poorer for his absence. It's not that movie stars have disappeared — Robert Downey Jr. is a fine Iron Man and Sherlock Holmes — but none of his peers have that particular sparkle that Smith brought to his roles. Watching one of his movies, you enjoyed seeing him, and there was an almost visceral electricity that came off him. Even back when he was part of DJ Jazzy Jeff and the Fresh Prince in the late 1980s, he was something of a charm machine. His songs were hokey, but you couldn't help it: You just liked the guy. Same with his TV show. Though clearly ambitious, Smith never seemed like just an opportunistic hustler; there was this casual I'm-your-buddy air about him that made you root for Will Smith. And from his likable, underrated performance in 1993's "Six Degrees of Separation" onward, I've been rooting for the guy.
After years away promoting his kids Jaden and Willow like they were human spin-off series, Smith returns this weekend with "Men in Black 3." The decision to do a sequel for a franchise that hasn't produced a film in 10 years might seem like a safe choice, but in some ways it also reflects a reality: We've entered an era in which stars (though still important) aren't nearly as crucial as the brand name. At least for now, gone are the days when just about any movie Tom Cruise or Tom Hanks starred in would be a huge hit. As big a name as Johnny Depp is, he won't guarantee you millions of dollars unless he's doing a "Pirates of the Caribbean." (I'd even argue that, while Depp was certainly a factor in its success, "Alice in Wonderland" got a bigger boost from people's familiarity with the story.) More often than not, it seems these days that we go to movies because it's a sequel or prequel to something we know, not because it stars so-and-so.
That was never the case with a Will Smith film. Although he made films based on existing properties — "I, Robot," "I Am Legend," "Men in Black" — he was their selling point and their stamp of approval. In a way, it's almost like he transcended the films he was in; he himself was the franchise. Starring in "Men in Black 3" signals that perhaps he realizes that he's like so many of his fellow A-listers who need to make sure they align with a property people know. For folks like me who were drawn to movies because of the characters and the stars who played them, this is a depressing, dehumanizing turn of events.
Smith will be 44 in the fall, and he's no longer the young buck anymore. If his 12-year run was Jordanesque, then my fear is that his return will be akin to Jordan's after he canceled his retirement and took another stab at basketball. It'll still be good to have him around, but that ineffable magic will be gone. I hope I'm wrong. I'm sure Smith does, too.