What to watch on IFC tonight: "The Perfect Storm"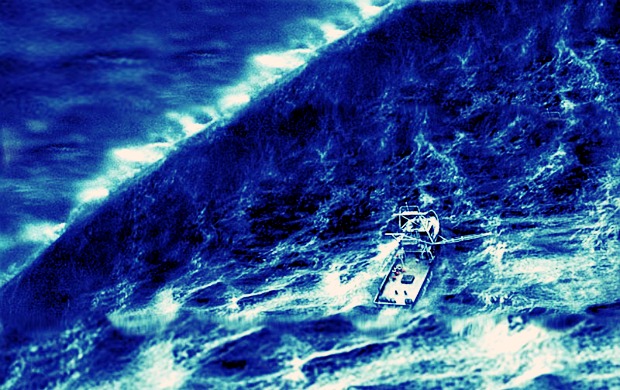 Posted by Melissa Locker on
All this week we're showing Movies That Go Bang! Bang! which naturally means we're showing some pretty manly movies. And when we say manly, we aren't just talking about Arnold Schwarzeneggar running around as "Conan the Barbarian" in a loin cloth with a giant sword. Actually, now that we think about it, that may not be nearly as man's man of a movie as "The Perfect Storm." Nothing says burly manliness like George Clooney in a turtleneck, right?
Based on the best-selling book by Sebastian Junger, "The Perfect Storm" tells the story of a fishing vessel bound for a date with a hurricane and a cold front that somehow created the worst weather ever known to man. The movie follows the ship's brave and hard-working crew as they head out on their fateful trip. (We'll stop singing the Gilligan's Island theme song if you do.) Billy Tyne (George Clooney), captain of the Andrea Gail, hasn't had much luck finding catch on his most recent trips to sea, and with money short, he and his crew — Bob Shatford (Mark Wahlberg), Dale Murphy (John C. Reilly), and David Sullivan (William Fichtner) set out again when they hear that the fish are running. Billy's hunch proves correct, but when the ship's refrigeration system goes haywire, they have to return to shore as quickly as possible before the fish spoil, sending them into the middle of the worst storm in history. The end is inevitable, but that doesn't mean it's not completely captivating to watch it unfold. So tune in tonight at 8 or 10:45 p.m. ET and watch "The Perfect Storm."
Tomorrow: "Escape From LA"
Watch the trailer here and tune in tonight:
Want the latest news from IFC? Like us on Facebook and follow us on @IFCtv.
"The Perfect Storm" airs on IFC tonight at 8:00 PM ET and 10:45 PM ET and Sunday, May. 20 at 8:00 PM ET and and 10:45 PM ET